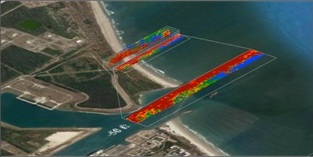 Posted on April 6, 2021
Video play time is 1:50 secs
Geophysical & Hydrographic Surveying
Arc Surveying & Mapping, Inc. provides geophysical and hydrographic surveys throughout North and South America, including the Caribbean.  Surveys are performed simultaneously,describing both the bathymetric elevations of the seafloor and the entire subsurface, to thirty feet below existing bottom.
Surveys are performed and Quality Controlled to the highest standards, under the direct supervision of Arc's Professional Surveyors and Geologists.  Data is provided in a user friendly MyGeoTwin 3D model containing an Integrated Digital Ground Model (IDGM) describing bottom surface elevations and subsurface structure changes in resistivity values.  Other relevant data included in the IDGM are core borings with the original logs, probes, side-scan sonar, sub-bottom sonar and project limits.
Horizontal and vertical cross-sections and profiles may be exported in .dxf (CAD) or .kmz (Google Earth) file formats.
Arc has over thirty (30) years of dredging surveying experience, assisting clients with meeting their project goals by providing the scientific data necessary to make practical and cost-effective decisions before generating contract documents or starting work.Using the Integrated Digital Ground Model provided in MyGeoTwin, planners and dredgers can view soft to hard subsurface structure changes, including sediment layering, and decide where geotechnical borings are required,and also to determine the type and size of the excavator necessary.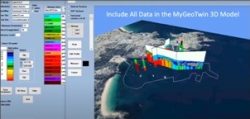 If you are contemplating new marine work, contaminated sediment remediation, channel and harbor deepening, driving sheeting or piles for berth or bridge projects, drilling and blasting, waterside wind farms or other marine construction projects, consider Arc Surveying & Mapping, Inc.to assist with the success of your project through a better understanding of the bathymetric and geophysical site conditions.References are available upon request.
Contact:  info@arcsurveyors.com  Website: www.arcsurveyors.com  Office: (904) 384 8377