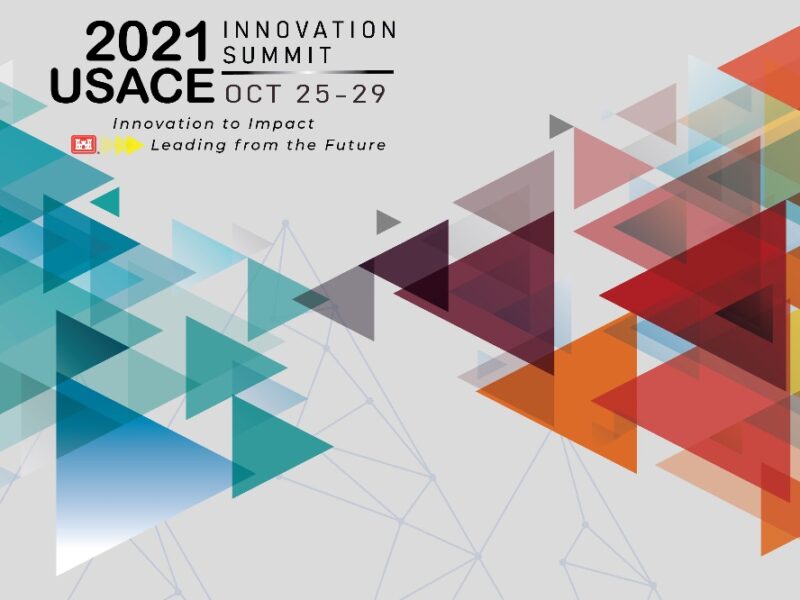 Posted on October 26, 2021
USACE kicked off their Innovation Summit for the week on Monday 10/25/21. The summit is a showcase for USACE innovations from both R&D and applied practices as well innovations in human capital and business processes. The USACE wants to move a typically risk averse culture to one that will embrace more innovative ideas. Lt. Gen. Scott F. Spellman from USACE made welcoming remarks and laid out the top 10 USACE R&D priorities:
1. Mitigate & Adapt to Climate Change
2. Win Future Wars
3. Modernize our Nation's Infrastructure
4. Support Resilient Communities
5. Enable Smart & Resilient Installations
6. Ensure Environmental Sustainability & Resiliency
7. Secure Reliable Installation Energy
8. Revolutionize & Accelerate Decision Making
9. Advance Cyber & Physical Security
10. Protect & Defend the Arctic
Special first day keynote speakers were Dr. Dara O'Rourke, Sr. who is both a professor at UC Berkeley & Practitioner at Amazon and studies environmental issues & health, social impacts of global supply chains. Dr. O'Rourke discussed Amazon's innovation strategy & how they have applied this innovation strategy to sustainability. The other keynote speaker was Eric Reiners, PM of Integrated Components & Solutions Div of Caterpillar (CAT) and responsible for program definition & funding of CAT's focus in automation and autonomy technologies. Mr. Reiner covered some of the history of autonomy at CAT as well as some of their current capabilities, as well as how they see the future of autonomy. CAT has safely hauled over 3.8 billion tons of material world wide autonomously over 8+ years, in over 447 CAT CMD trucks on customer sites, that have been driven over 126 million km, safely, of which 18 sites are operating 24/7 on three continents. There has been no lost time or injuries. CAT has the ability to utilize long range control to operate & monitor their equipment anywhere in the world.
There are four days left in the USACE Innovative Summit. To join the virtual meeting click on the link below to register.
https://www.eventbrite.com/e/usace-virtual-innovation-summit-2021-registration-147876401297