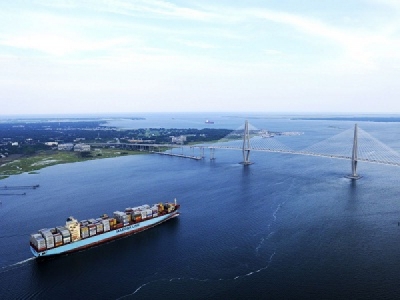 Posted on October 3, 2016
By Liz Segrist, Charleston Regional Business Journal
The U.S. House of Representatives passed the Water Resources Development Act of 2016 on Wednesday, moving the 52-foot Charleston Harbor deepening project closer to the authorization needed to begin construction.
Bill H.5303 passed by a 399-25 vote. The U.S. Senate voted 95-3 to pass the water bill on Sept. 14.
A conference committee will now work through the differences between the House and Senate versions of the bill during the congressional recess, according to a news release from the S.C. State Ports Authority.
Port CEO Jim Newsome said in the release that the House approval makes "this critical legislation a priority before the lame-duck session." If the project is approved, construction could begin next year.
The project will deepen the Charleston Harbor to 54 feet at the entrance channel and 52 feet in the harbor. The infrastructure project will yield the deepest harbor on the East Coast , according to Newsome.
The 52-foot depth means post-Panamax ships — larger ships that can transit the newly expanded Panama Canal — will be able to call on the Port of Charleston any time of day without tidal restrictions. The harbor is already wide enough to handle two ships simultaneously.
The post-Panamax ships are already calling on the Port of Charleston, Newsome said.
The background
Efforts to deepen the Charleston Harbor began in 2012. The U.S. Army Corps of Engineers, Charleston District, conducted a four-year, $11 million study of the project — roughly half the typical time and cost of a feasibility study. This more efficient process is part of the corps' Smart Planning process.
The Army Corps' study culminated in a Chief's Report in September 2015, greenlighting the deepening of the harbor to 50 feet, or to 52 feet with additional funding from the port. The port opted to pay the extra $70 million to deepen the harbor to 52 feet.
Most recently, the project received its Record of Decision from the assistant secretary of the Army in January; it has awaited authorization through the Water Resources act since then.
The deepening project also needs about $175 million in federal money. The state already set aside $300 million of the $509 million total.
"Passage of this bill by the House represents another hurdle cleared for Charleston Harbor deepening," ports authority board Chairman Pat McKinney said in the news release. "We are deeply appreciative of our entire delegation's efforts. This milestone is the result of years of hard work and ensures our port's world-class deepening project remains on track."