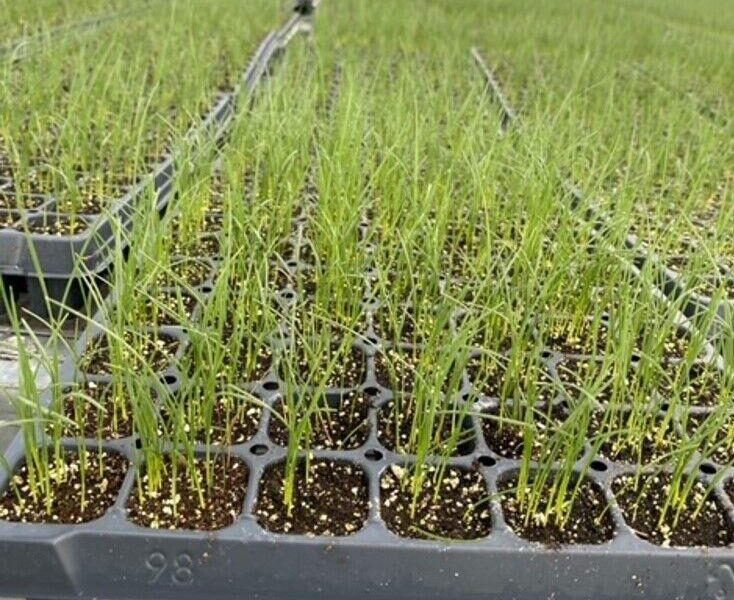 Native sea oats that will be used in the Emerald Isle beach nourishment project this spring grow in a warehouse owned by subcontractor Earth Balance in this undated photo. (Contributed photo)
Posted on February 15, 2021
EMERALD ISLE —  With the Emerald Isle beach nourishment project scheduled to begin Saturday, Feb. 20, the Carteret County Shore Protection Office wants oceanfront property owners to know what to expect.
Office Manager Greg Rudolph, in an email this week, said the dredging contractor, Great Lakes Dredge and Dock Co. of Illinois, will remove sand fencing.
"If the fencing is in good condition, GLDD will roll and place the sand fencing landward of the dune construction and beach fill," he continued.
It will then be the property owners' responsibility to reinstall the sand fencing, if they desire to do so, once the dune-planting phase is complete.
Planting of several hundred thousand sea oats, bitter panicum and seashore elder plants will begin after nourishment ends. The plants, which subcontractor Earth Balance will water, will be installed from the top of the new dunes down the entire slope.
Only native plants are being used, Mr. Rudolph said, and the Earth Balance got seeds and cuttings from the existing plants in Emerald Isle in October. The seeds have germinated in an Earth Balance warehouse and are ready to plant once nourishment is over.
The project totals 9.4 linear miles of beach in Emerald Isle, with 166,350 cubic yards of sand to be deposited in the extreme western strand off Coast Guard Road, 708,750 cubic yards to the east of that, 537,750 cubic yards in the center of town and 600,000 cubic yards in the extreme east.
The nourishment phase of the project must end by Friday, April 30.
The eastern Emerald Isle portion of the work will not include new dune construction, just placement of sand on the flat beach, since dunes were constructed there in 2019.
Those who want to re-install sand fences must follow guidance from the N.C. Division of Coastal Management and contact the Emerald Isle local Coastal Area Management Act permit officer, Josh Edmondson, before proceeding.
In addition, Mr. Rudolph said Earth Balance "will leave a 'no-plant' walkway leading to and from the beach at every home-owner's stair landing.
"To guide foot traffic away from the new plants in an effort to increase the plant's survivability, many homeowners have adopted a preferred 'post and rope' approach," he added.
Property owners must follow DCM guidance, which can be found at carteretcountync.gov/DocumentCenter/View/8827/2020-Post-Project-Dune-Guidance?bidId=.
Contact Brad Rich at 252-864-1532; email Brad@thenewstimes.com; or follow on Twitter @brichccnt.