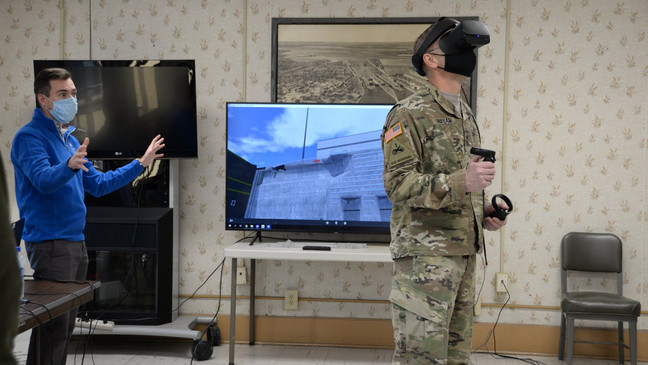 Maj. General William Graham, Deputy Commanding General of the U.S. Army Corps of Engineers (USACE), views the New Lock at the Soo through a virtual reality headset while Gary Grunwald, USACE Structural Engineer, gives him directions at the Soo Locks in Sault Ste. Marie, Michigan on February 3, 2021. (U.S. Army Corps of Engineers) Facebook Share Icon Twitter Share Icon Email Share Icon
Posted on February 25, 2021
CHIPPEWA COUNTY, Mich., (WPBN/WGTU) — The U.S. Army Corps of Engineers is using a new tool to help visualize the New Lock at the Soo.
Lock operators and design members are using virtual reality to see what the new lock will look like from a new perspective.
Virtual reality allows crews to virtually walk through the project to help identify any issues before designs are finalized.
According to the Army Corps, the New Lock at the Soo team has been creating a 3D model of the New Lock in Revit before it is imported into the virtual reality software.