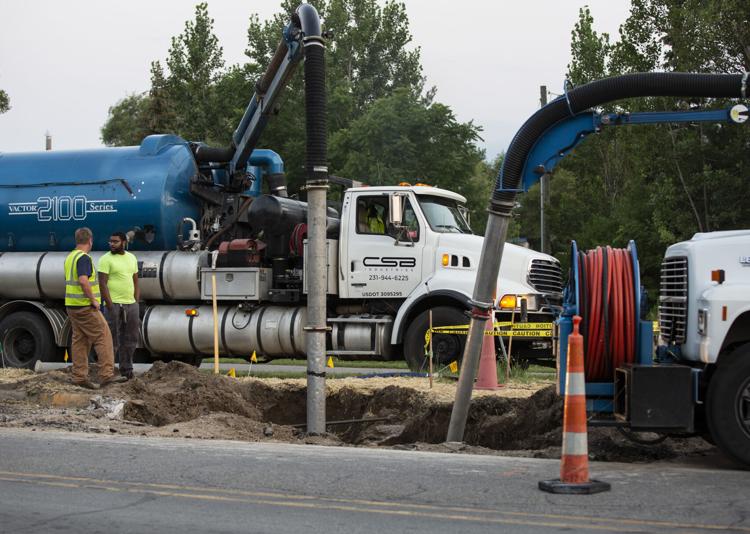 Workers watch as vacuum trucks are used to pump sewage from a hole on the side of Parsons Road just east of Hastings Street in Traverse City on Tuesday. Record-Eagle/Mike Krebs
Posted on July 28, 2021
TRAVERSE CITY — Swimmers who prefer to cool off in West Grand Traverse Bay at the Bryant Park beach in Traverse City are advised to splash into a different spot for now, following a major break in a major sewer line.
Local health and city officials confirmed an accidental release of raw sewage Monday evening from a sewer main near Hastings Street and Parsons Road, which entered a storm sewer catch basin that discharges into the bay near Bryant Park. As a result, health authorities advised the public against any body contact with the water there until further notice.
Health officials said the 200 gallons of untreated sewage that spilled is considered a minor amount, but they issued the beach advisory out of an abundance of caution.
Officials said the cause of the ongoing leak is unknown, and workers have their metaphorical finger in the dam as repairs are made. Additionally, public sewer customers in Acme and East Bay townships are advised they can help the situation by conserving water use through Friday and not flushing toilets during certain early-morning hours.
There is no way to know whether any of the spilled sewage reached the bay overnight into Tuesday, said Traverse City utilities Director Art Krueger, but that is where the storm sewer line goes.
He said there was some rain overnight into Tuesday, which may have flushed the raw sewage out to Lake Michigan. Subsequent rainfalls could do the same.
And that's only the first problem.
The sewage leak comes from a main transmission line from both Acme and East Bay townships. Service to those areas cannot be shut off — even temporarily — because of the number of people who would be impacted, said John Divozzo, Grand Traverse County Public Works Department director.
He said that's why workers throughout Monday night and Tuesday used vacuum trucks, taking turns to suck up the continually flowing sewage from the leaking transmission line and hauling it to the wastewater treatment plant.
U.S. Census data shows that sewer transmission line serves about 16,300 people year-round between the two east-side townships, typically far more during summer months.
Divozzo said now the county's game plan is to arrange enough heavy equipment and vacuum trucks to attempt a two-part solution: construct a temporary sewer line bypass for the damaged trunkline, followed by three-hour, early-morning, dig-and-repair sessions for as many as three consecutive nights.
"It's a major repair," Divozzo said. "We've got staff working around the clock."
The early-morning timeframe between 3 and 6 a.m. is when the sewage flow in the transmission line generally is slowest, he said, adding he hopes it's low enough for workers to "stave it off" while contracted Team Elmer's workers make the repairs.
Divozzo said officials rush-ordered a needed part from Ohio to build the temporary bypass, and also are relentlessly working to prevent the sewage flow from spilling into the storm drain that leads to the bay.
All public sewer customers in Acme and East Bay townships conserving water until the sewer line repairs are made could help the effort, Divozzo said.
Also, he said avoiding flushing toilets between 3 and 6 a.m. through Friday would benefit the workers' effort.
County workers suspect the leak comes from some type of puncture rather than a complete break, Divozzo said.
"But we haven't opened the hole yet," he said, adding they may find a bigger problem when they get underground.
He said workers on Tuesday turned off the pump station for Acme Township and redirected its sewage flow into East Bay Township so the continual vacuuming effort had only one pump station with which to contend.
Meanwhile, city workers on Tuesday placed signs at Bryant Park to warn the public about the body contact advisory for the water.
Those warnings were already posted when public health officials collected water samples from the beach, said Emmy Schumacher, public information officer for the Grand Traverse County Health Department.
Results from the testing are expected Wednesday, she confirmed, and health officials said they will advise the public when the advisory is lifted. That will happen once water test results show conditions at Bryant Park meet state environmental standards for E. coli levels.
The beach will be tested again Wednesday as part of the region's weekly summertime beach monitoring program. Results typically are announced Thursdays for the Lake Michigan and inland lake beaches in the program across Benzie, Grand Traverse and Leelanau counties.
Officials said the public should not worry about their drinking water supply being contaminated. In fact, Traverse City's drinking water comes from East Grand Traverse Bay, on the opposite side of Old Mission Peninsula.
Related risk
Krueger said Traverse City avoided a potentially much bigger sewage spill during a heavy downpour Saturday.
City workers put in a significant effort that day to keep a sewage overflow from running into the Boardman River near the intersection of Front and Union streets in downtown Traverse City.
Workers noticed a sewage backup that began around 10 a.m., when they started to use vacuum trucks to suck up the mess. By the end of the day, they hauled 9,800 gallons to the wastewater treatment plant, Krueger said.
A temporary plastic basin built around a manhole in a Record-Eagle parking lot alongside the river allowed city workers time to jump into action and prevent a spill into the river, and the bay beyond.
"We were able to mitigate a potential overflow," Krueger said, calling the effort a "victory" for the city in the face of repeated heavy rain events.
He said rain gauge near Division Street measured 2.8 inches of rainfall during the first two hours of Saturday's storm, followed by another 3.68 inches during the next seven hours.