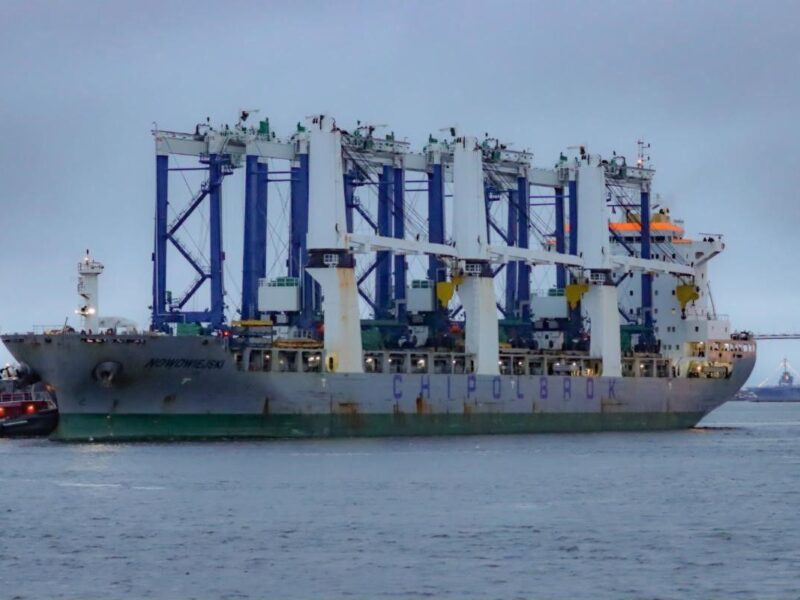 Six hybrid rubber-tired gantry cranes sail into Charleston and head for SC Ports' Leatherman Terminal, which sits along the Cooper River in North Charleston. SCPA/English Purcell/PROVIDED
Posted on February 25, 2021
The new rubber-tired gantry (RTG) cranes are the final pieces of cargo-handling equipment to arrive for the container terminal, which will open in North Charleston at the end of March.
The cranes arrived on the Nowowiejski vessel, which is owned and operated by Chipolbrok, were fabricated by Shanghai-based manufacturer ZPMC, and loaded for the journey to Charleston. The ZPMC USA team will commission the cranes before they are put into service.
The six new RTG cranes will join the 19 RTG cranes already on the site, making a total of 25 hybrid RTG cranes for Phase One of the Leatherman Terminal. These cranes will efficiently move and stack cargo boxes around the 47-acre container yard.
"This is a very exciting delivery for SC Ports as we now have all the major cargo-handling equipment on the site," SC Ports President and CEO Jim Newsome said. "The Leatherman Terminal's impressive new equipment will provide efficient, reliable service to our customers."
The Leatherman Terminal's 25 new hybrid RTGs are a big part of SC Ports' environmental efforts to maintain and improve air quality, as well as minimize emissions from port operations.
The new RTGs run solely on electric battery power, meaning diesel only runs when the batteries need to be recharged, which effectively reduces idling time. The batteries are expected to reduce fuel consumption by around 70 percent when compared to conventional diesel port cranes.
The new fleet of hybrid RTG cranes will join five new ship-to-shore cranes, which stand on the 1,400-foot berth. The ship-to-shore cranes have 169 feet of lift height above the wharf deck and an outreach of 228 feet, enabling them to work the biggest container ships calling along the East Coast.
"The Leatherman Terminal can handle more cargo and bigger ships, including a 19,000-TEU vessel," Newsome said. "Global companies need access to well-run ports with cargo capacity. The Leatherman Terminal will be a significant economic driver for South Carolina, further supporting growth of existing businesses and attracting new investments to the state."