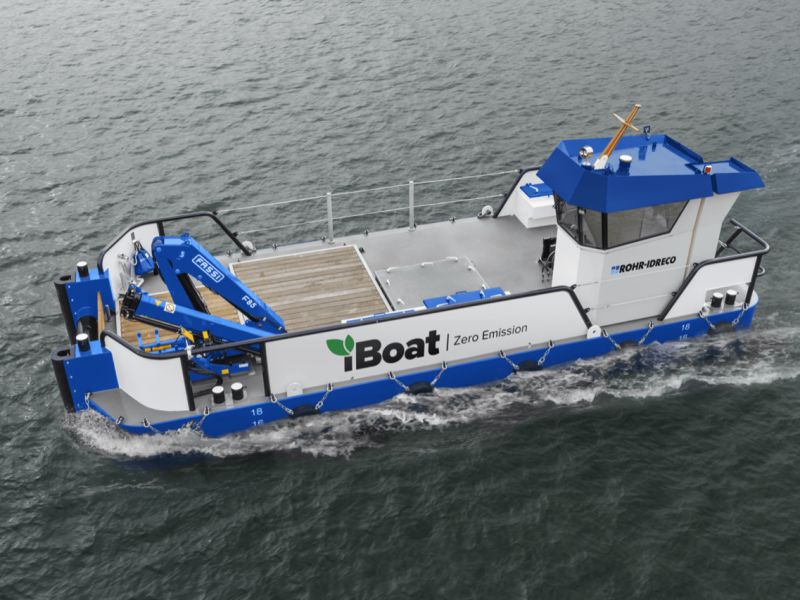 Posted on June 10, 2021
ROHR-IDRECO, a leading designer and manufacturer of premium dredging vessels and equipment, is proudly launching its first workboat. The "iBoat," a high-end vessel powered entirely by electricity, adds to the company's range of zero-emission dredge systems and equipment. The iBoat can be used for a variety of applications, such as anchor handling, mooring and support.
The iBoat is built in the United States to the highest standards. It is designed to be especially suitable in "water protection areas" and environmentally sensitive mining locations as well as urban centers, where zero emission, maximum energy efficiency, and reduced noise pollution are key factors.
The vessel is equipped with a 200 kW propulsion battery pack that can be charged from either onshore or the dredge, a deck crane, and a quality cabin. It can be further customized and upgraded from an extensive range of options. As with many dredges in the ROHR-IDRECO portfolio, the iBoat is designed to be "containerized", allowing it to be conveniently transported worldwide in 40-foot containers and reassembled quickly and easily on-site.
For more details, see: www.rohr-idreco.com/usa/iboat/
For questions or enquiries, please contact: americas@rohr-idreco.com