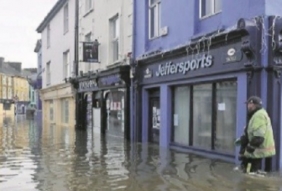 Posted on March 3, 2016
By Kieran O?Mahony, The Southern Star
After years of waiting, it has been finally confirmed that remedial works on the Bandon River finally began last week.
Councillors met with Council chief executive Tim Lucey, county engineer David Keane and West Cork divisional manager Clodagh Henahan recently, where plans for the interim works were outlined.
The Council will be putting down 15 non-return valves at all entry points from the river, as well as raising the embankment at the Lidl car cark.
'This is welcome news for the people of the town as they have been to hell and back in recent months. Having experienced unacceptable delays with an overly bureaucratic tendering process, led by a central Government agency (OPW), this action is a reprieve for the resilient people of this West Cork town,' said Cllr Alan Coleman.
READ FULL ARTICLE HERE