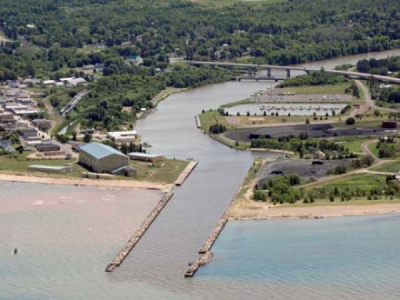 Photot: Andrew Jameson, From Wikimedia Commons
Posted on April 15, 2019
Ontonagon — The dredging of the Ontonagon Harbor is expected to be done after the Fourth of July. EDC member Pat Tucker told the Economic Development Corporation Board Wednesday that the dredging company officials have received the contract from the Army Corps of Engineers to perform the dredging and the project manager told Tucker he will be coming to Ontonagon at the end of April or early May to look over the area. The manager had slated a visit for March when the area received a big snowstorm and it was postponed.
Tucker said the dredging company has previously performed the dredging in Ontonagon, but the manager is new. He added the dredging is expected to be done up to the area of the old swing bridge which is the federal channel. "As soon as I get confirmation on the date I will put him in touch with the EDC President Sue Preiss," Tucker said.
Tucker also reported that the SynSel Biofuel, project is "moving forward, although not as fast as I'd like." He added however that the company has made a significant payment on their initial obligation."
EDC member Robert Schulz proposed that the EDC get a Face Book page, adding it could list festivals and other events to promote the village. Tucker and the majority of the directors opposed the suggestion. Tucker noted the by-laws of the EDC state that no one person speaks for the EDC and any decisions or action must be taken by the entire board. He said any input from the public would have to be brought to the entire board but the board only meets every three months. He said he did not oppose a Web Site, however. Schulz said a web site costs money and Facebook is free. Other EDC members added that when people come to the board with a business plan or suggestion they come in confidence to keep the proposed businesses negotiation private until it is fully developed.
EDC President Sue Preiss said she is concerned about liability. She added the EDC deals with negotiations with potential investors seeking help to open a business. She said those negotiations are private until they are ready. She added if there was a director, as in the past, who answers the EDC phone, it might have been possible. Ted Baird added that no political body in the area is on Facebook. Entities like the Greenland Fourth of July are formed by individuals, not the townships. Most Townships have websites. Preiss said the EDC has written letters of support when asked and with the board approval. One director added "The Chamber of Commerce website supports festivals and events in the community."
Schulz continued to press for Facebook as "Free, inexpensive and a way to promote the area," but no action was taken.
The next meeting of the EDC is July 10.
Source: yourdailyglobe.com