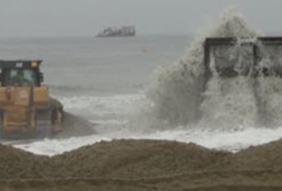 Posted on March 14, 2016
By Donald Wittkowski, CCNJDaily
Centuries ago, China built its Great Wall to protect its borders from invaders.
Ocean City is building its own great wall of sorts — a long, sandy barrier designed to protect the island community from the ravages of storm-tossed seas.
A flurry of activity is expected to begin in March on a beach replenishment project in the south end of town that is a centerpiece of citywide coastal fortifications, including the dunes.
"When they're done, we'll have a complete line of dunes from north to south protecting the properties. And we'll have wide and healthy beaches from tip to tip for perhaps the first time since the island was developed," Mayor Jay Gillian said in his annual State of the City address on Feb. 11.
READ FULL ARTICLE HERE