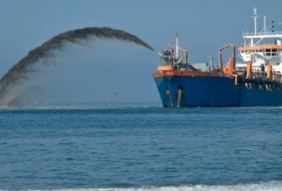 Posted on November 19, 2015
By John Palminteri, KEYT
A large sand berm has been built in Santa Barbara in front of the Yacht Club and a nearby boat yard before the expected winter storms hit the area.
Heavy equipment has been working in the area since last week.
The annual berm has been successful in the past. In very large storms without the protection there's been storm damage to harbor area businesses.
Work is also underway to connect parts for the dredge pipe. When it is in place, the sand built up in the harbor entrance will be carved out and sent down the coast.
READ FULL ARTICLE HERE