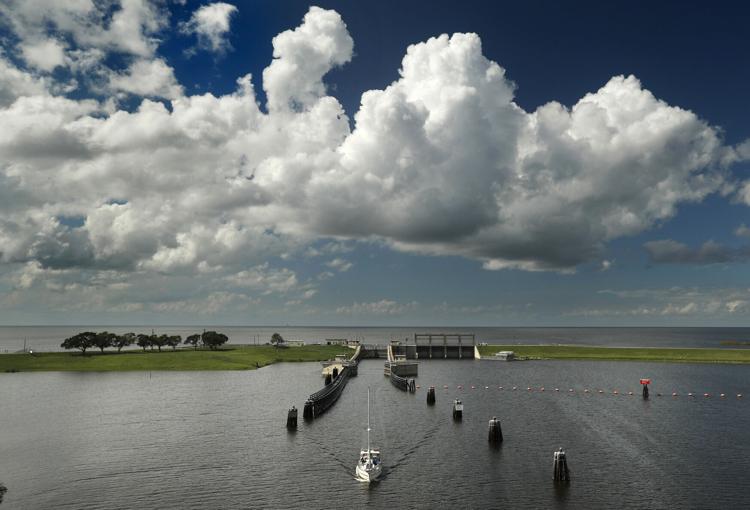 In this Friday, Oct. 25, 2019, photo, a sailboat starts down the St. Lucie Canal after leaving Lake Okeechobee, background, through the Port Mayaca, Fla., lock north of Belle Glade, Fla. The lock and dam was built in 1977 to raise the water level in the lake and provide flood control. AP Photo/Robert F. Bukaty
Posted on July 28, 2021
(The Center Square) – The U.S. Army Corps of Engineers' proposed Lake Okeechobee release schedule unveiled last week appears to favor environmental concerns over agriculture and development, but the real divide between proponents and opponents is an east side-west side story.
Communities east of Lake Okeechobee are pleased because the plan reduces harmful discharges into the St. Lucie Estuary and increases flows into the Everglades by 52% during the dry season – tactics designed to stymie blue algae outbreaks that befouled the Caloosahatchee and St. Lucie rivers in 2019.
U.S. Rep. Brian Mast, R-Stuart, whose district is east of the 730-square-mile impoundment, supported Balanced Alternate Plan CC, one of five reviewed, which calls for tripling discharges south into the Everglades, decreasing discharges into the St. Lucie River and redefines Lake Worth as an estuary, not a flood-control waterway.
"The east coast has made compromise after compromise, and we will not accept more discharges that harm our communities while we receive no benefits," Mast said.
But on Friday, five Southwest Florida congressional reps from districts west and north of Lake Okeechobee raised objections.
The five, all Republicans, in a letter penned by U.S. Rep. Greg Steube, R-Sarasota, say the new plan does not ensure water supplies for agriculture and municipalities, and increases discharges into the Caloosahatchee River.
"While Plan CC appears to meet certain project purposes including flood control, navigation and recreation, it falls short on other purposes," the letter reads. "In the case of water supply, more than 7 million Floridians and thousands of businesses tied to tourism, agriculture, health care and construction depend on water supply from Lake Okeechobee."
After years of debate over where Lake Okeechobee discharges should flow, the Corps on July 19 announced it has chosen Balanced Alternate Plan CC, which it seeks to encode into its 10-year Lake Okeechobee System Operating Manual (LOSOM), an update of its 2008 water management plan.
LOSOM will be finalized in October and implemented by late 2022 after $2 billion in repairs to Herbert Hoover Dike are done. It will be in place as construction of the $1.3 billion, 240,000-acre-foot EAA reservoir is completed in 2027.
Lee County Commission Chair Kevin Ruane told reporters Friday he objects to Plan CC and wants more water in winter and less in summer from the lake.
"The problem with CC currently right now is that it is 12% worse (in summer releases) than LOSOM 2008," Ruane said. "I never thought I'd wait 13 years for a schedule to be worse for our community."
Steube and U.S. Reps. Kat Cammack, Mario Díaz-Balart, Byron Donalds and Daniel Webster in their letter to Corps' Jacksonville District Commander Col. Andrew Kelly call on the Corps to restore 2008 "water supply performance."
"Prior to the final selection of a LOSOM plan, we are requesting the Corps explain how Preliminary Preferred Plan CC will be adjusted to restore the water supply function on which we depend, and how optimization will be performed to meet this serious deficit," the letter reads.
"Throughout the LOSOM process, we have heard the need for 'shared adversity.' However, as mentioned during public briefings, Plan CC results in more frequent damaging discharges to the Caloosahatchee River in favor of fewer discharges to the St. Lucie River Basin," the letter reads. "Lake Okeechobee's ecology itself also seems to fare less than our constituents expected under Plan CC. We strongly urge you to correct these disparities as the plan is optimized."