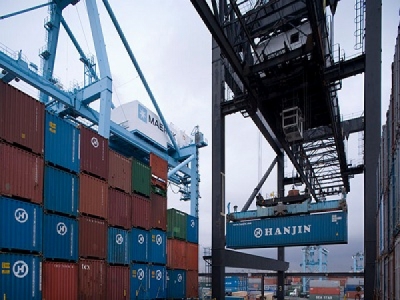 Posted on September 19, 2016
By Joseph Bonney, JOC.com
The International Longshoremen's Association is refusing to load Hanjin Shipping containers aboard ships or allow Hanjin boxes to leave US East and Gulf Coast terminals, citing concerns about unpaid royalties and other financial obligations to the union.
Multiple ILA and terminal sources said the action is directed mainly at Hanjin's payment of container royalties, the per-ton fees that ocean carriers pay into funds that support union benefits. Hanjin's unpaid royalties and obligations to other ILA funds are said to total more than $1 million.
"We're not happy to have to do this. It's strictly a business decision," one ILA official told JOC.com. "Like everyone else, we just want to be paid what is owed us."
Hanjin's Aug. 31 receivership filing has set off a scramble by creditors to secure leverage for collection of unpaid bills. The carrier's ships have been arrested at ports in the United States, China, Singapore, Australia, and Canada.
The ILA is continuing to discharge Hanjin cargo from ships, but is refusing to load Hanjin containers on vessels or allow Hanjin boxes to move out of terminal gates. The action is affecting full and empty boxes. The union is continuing to handle other carriers' containers.
One forwarder reported that Hanjin boxes were being stranded in terminals at the ports of New York and New Jersey, Virginia, Savannah, and Houston, all of which are called by Hanjin vessels. It was not clear how many Hanjin boxes are being held at the terminals.
As Hanjin seeks bankruptcy protection in multiple countries, some of the company's ships have been able to call at some ports without being seized.
The Hanjin group has secured $10 million to allow ships to be worked at US West Coast ports. However, two vessels, the Hanjin Miami and Seaspan Efficiency, were still idled off New York-New Jersey and Savannah on Friday at the same locations where they were last week.
Source: JOC