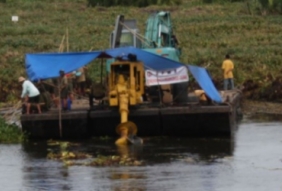 Posted on February 22, 2016
By Edwin O. Fernandez, Jeoffrey Maitem, INQUIRER.net
A dredging project in Maguindanao has been put on hold as Moro rebels have been harassing government forces securing workers in Datu Salibo town.
Capt. Joann Petinglay, spokesperson of the Philippine Army's 6th Infantry Division, said members of the Bangsamoro Islamic Freedom Fighters (BIFF) harassed Sunday the 22nd Mechanized Company detachment in Barangay Butalo where the dredging project was located.
She said the BIFF rebels, using Barret cal. 50 sniper rifles, harassed the Army's Butalo detachment at 6 a.m., 3 p.m. and 6 p.m. Sunday. No casualty was reported from government forces.
READ FULL ARTICLE HERE