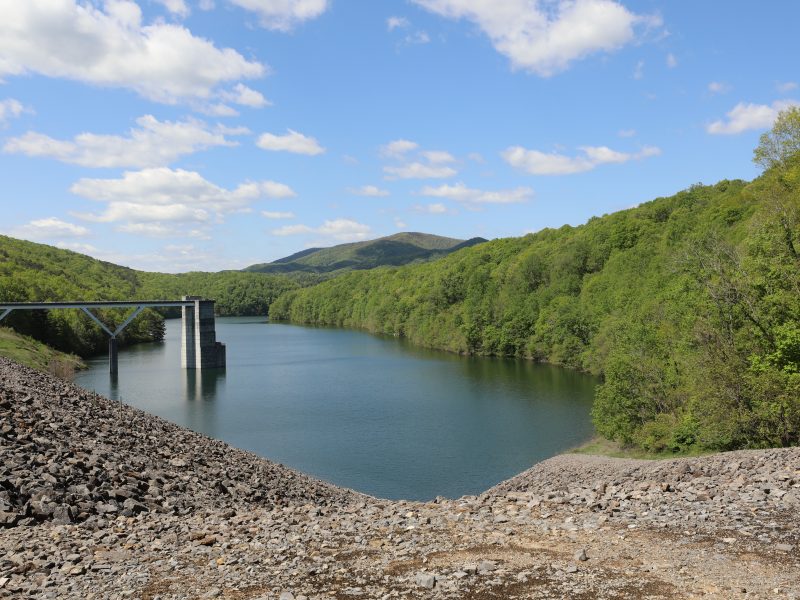 Gathright Dam at the dam crest overlooking upstream at Lake Moomaw. Gathright Dam located in Alleghany County, Va., impounds the water flowing down the Jackson River to create the 2,500 acre Lake Moomaw. The dam has prevented numerous floods over its 30 plus year existence saving countless dollars and lives. (U.S. Army photo/Breeana Harris)
Posted on June 9, 2021
COVINGTON, Va. – The Norfolk District U.S. Army Corps of Engineers (USACE) is hosting a virtual stakeholders public meeting on June 15 from 10 a.m. to 11:30 a.m. to learn more about the Gathright Dam and the upcoming scheduled pulse releases. Members of the public are encouraged to attend and ask questions.
The virtual meeting will be hosted on Google Meet. Details are as followed:
Video call link: https://meet.google.com/ocd-dvqw-fpv
Or dial: ‪(US) +1 573-741-0121 PIN: ‪685 056 524#
More phone numbers can be found here: https://tel.meet/ocd-dvqw-fpv?pin=3898739847195
The first pulse release of the year is scheduled for late June. The pulses, conducted by Norfolk District in coordination with the Virginia Department of Environmental Quality and Virginia Department of Game and Inland Fisheries, generally take place between 6 a.m. and 1:30 p.m. on scheduled days and increase Jackson River levels by 3 to 4.5 feet.
The 2021 pulse dates are set for the following days:
June 23
July 21
Aug. 11
Sept. 1
Sept. 22
Oct. 13
Dates are subject to change based on weather conditions and rainfall. For updates, refer to https://www.nao-wc.usace.army.mil/nao/projected_Q.html
Pulse releases, which began in 2011, are designed to improve aquatic habitat and water quality in the Lower Jackson River. Monitoring data has shown the increased flow scours excess algae downstream and strengthens the river's health.
As part of Norfolk District's comprehensive dam safety program, Gathright Dam has been inspected and monitored closely since it became operational in 1979. The Gathright Dam and Lake Moomaw Project provides flood protection of industrial, commercial and residential properties along the Jackson and James rivers with immediate impact on Covington, Virginia.
For more information about the Norfolk District, visit us at https://www.nao.usace.army.mil/