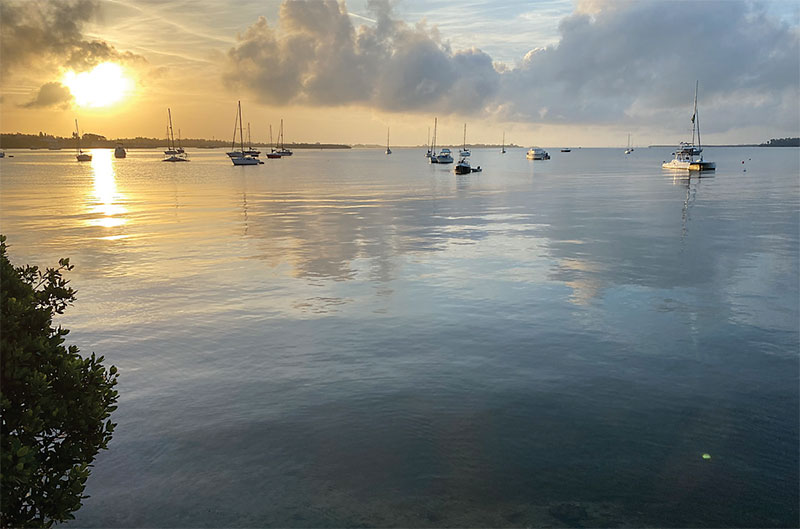 At the Historic Bridge Street Pier, 200 Bridge St., Bradenton Beach, April 1, near the northern end of the channel, dredging and seagrass mitigation are anticipated. Islander Photo: Kelsey Mako
Posted on April 8, 2021
On your marks, get set.
Soon there will be smooth sailing.
The Bradenton Beach dredging and seagrass mitigation project will begin this month with the goal to create a more navigable channel.
The mitigation contractor was set to begin staging its equipment April 2, according to city attorney Ricinda Perry.
Staging — involving setting up pipes and putting up safety walls and signage — will continue this week.
The contractor, AquaTech Eco Consultants LLC, will begin the seagrass mitigation portion of the project, staking out the planting areas.
Mitigation, essential to dredging projects because it reduces losses incurred from stirring up the bay bottom by putting in new plants, will take place before dredging.
"You dig, you have to also do some positive things with that digging," said Perry.
Dredging will begin in mid-April or early May.
The project is on track to be completed by early September, with a state deadline for completion of the project by Dec. 31.
Dredging will take place from the South Coquina Boat Ramp, 1465 Gulf Drive S., northward to the Historic Bridge Street Pier, 200 Bridge St.
Perry said the project is important to Bradenton Beach because the channel is extremely shallow, causing boats to run aground.
The project, being completed by Duncan Seawall, Dock and Boat Lift, is estimated to cost $925,485.
Funding is through the city's community redevelopment agency, which supports improvement projects that aid in growth, restoration and tourism in the downtown, historic area of Bradenton Beach, which includes the city pier.
The CRA received $500,000 in state appropriations and $300,000 from the West Coast Inland Navigational District.