Bulldozers rest at the beach nourishment project site in South Bethany in November of 2020. Sand will be piped ashore to top off the dune and widen the berm (general beach area). Coastal Point • Laura Walter
Posted on November 24, 2020
Winter project avoids impacting the tourist season
Three weeks into the beach nourishment project in Bethany Beach and South Bethany, things are going smoothly, and the beaches are being built up.
Beach replenishment is part of a federal plan to prevent coastal storm damage to property and infrastructure. The U.S. Army Corps of Engineers periodically pumps sand ashore to widen the beach and rebuilds the dunes, in partnership with Department of Natural Resources & Environmental Control (DNREC).
Contractor Weeks Marine Inc. won the construction project and had completed about half of the South Bethany section, as of mid-November. Work began on Oct. 26, with an estimated end date in mid-December. Then the Bethany Beach section will conclude in late January. Both project areas are about a mile long each.
The overall project has not been significantly impacted by delays, though there have been some minor delays relating to equipment problems, inclement weather and the recent oil spill.
"They're back on track now, so it's pretty much going along fine," said Edward Voight, spokesperson for the USACE Philadelphia District. "The nice thing about scheduling things in the off-season … it's not affecting the coastal economy very much. It's not like we're coming up on July 4th or anything," which was a major frustration for the 2018 projects.
On Oct. 19, an estimated five-barrel oil spill came ashore at Broadkill Beach in the Delaware Bay and worked its way south into the Atlantic Ocean. While the southern beaches were mostly spared the tar balls that washed ashore closer to the Delaware Bay, tiny spots of oil still clung to the shoes of beachgoers and drenched seaweed washed ashore. Officials were concerned that oil would become trapped under the incoming sand, so they focused on clean-up efforts in South Bethany and Bethany Beach so that the replenishment could safely proceed.
Mayor Tim Saxton commended the U.S. Coast Guard and DNREC personnel who responded to the spill: "Those folks are real professionals, did an excellent job. They responded to any concern… If you saw something on your beach, they were there immediately. They worked very closely with me in regards to beach renourishment, that the beach would be clean prior to renourishment. … I can't thank them enough. They did an excellent job keeping our beach clean. I can't say we're never going to step on a tar ball, but they did an amazing job."
The Bethany Beach/South Bethany Coastal Storm Risk Management project, which included reconstruction of protective dunes in front of oceanfront homes and businesses, was initially completed in 2008, with emergency repair in 2009, periodic nourishment in 2011, Hurricane Sandy repair in 2013 and periodic nourishment again in 2018. The ongoing projects are meant to return the project areas to and maintain the original 2008 design, which was engineered to best protect infrastructure from storms.
When the replenishment is complete, the dunes will again be stacked to 16 feet above sea level, with the berm (the regular "beach") being 150 feet wide from the ocean to the dune toe, sloping up to 7 feet above sea level (NAVD). This 2020-2021 project is considered standard, compared to previous years, when timing has changed or storms have impacted the work.
This year, the federal government is again paying the majority of the $11.1 million contract (split 65/35), so Delaware chips in about $3.9 million.
In South Bethany, replenishment will occur from Sandpiper Village (Sea Side Drive) to just south of Logan Street (toward state park territory). In Bethany Beach, replenishment will occur between Ocean View Parkway and Oakwood Street.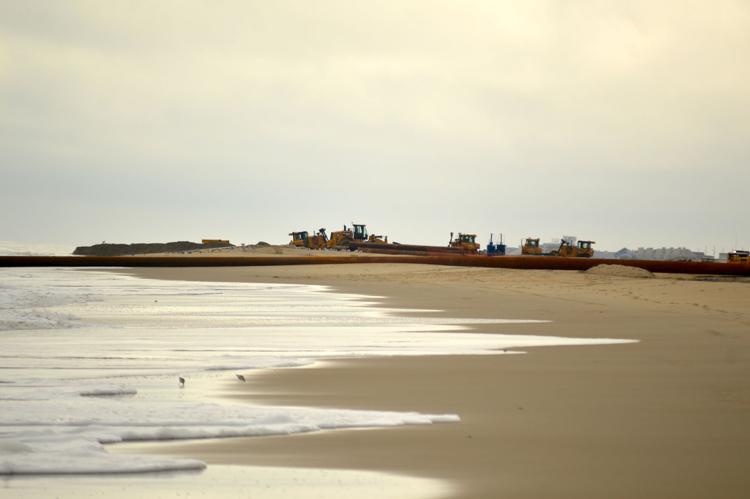 Work physically begins in the middle of each zone, with replenishment segments pushing outward to the south and north. The beach will have rolling closures as the project migrates. This project will involve dredging more than 732,000 cubic yards of sand from borrow sites about 2 miles offshore. Sand is pumped from dredge barges through a series of pipes and placed on the beaches. After the water drains out, the sand is pushed into formation using bulldozers. Most of the work for 2020-2021 involves widening the beach, while dunes will be repaired in certain areas.
"Some people ask about the big baskets on the end," Voight said of the giant metal basket covering the pipe opening. "On rare occasion, the odd munitions shell or something like that will show up. … Most of it is just junk of various kinds but, for instance — there used to be a [World War II-era] firing range off Bethany, so if an old shell will wash up, sand goes through the screen," but the old munitions won't.
"We haven't had anything like that in Bethany," he said, as of this week. (In prior years' projects, some munitions have been found during the course of the work, but they've been carefully and safely removed before they could end up on the beach.)
In the ocean, there are also screens on the intake end of the dredge to prevent sealife or anything else from being beached.
The plans for the project include dune grass (which has a later ideal planting season), dune fencing, installation of sand fencing and repairs of dune crossover/access points.
As an added precaution, another company is hired to monitor seismic vibrations from the beach equipment. As anyone who's lived next to a construction site knows, "something can be safe, but you still feel it," Voight said. The monitoring boxes are currently lined up just behind the dunes to help ensure that the beachfront houses aren't damaged by vibrations.
Fenwick on a different schedule
Different projects make up the Army Corps' overall Delaware Coastal Storm Risk Management Program. The Fenwick Island sector is on a four-year renourishment schedule, compared to the Bethany and South Bethany schedule of every three years. Schedules are based on historic data, erosion rates and hydraulic modeling of how the ocean and the beach interact at each point. The two projects coincided in summer of 2018.
Although Fenwick is scheduled for a renourishment in the current fiscal year (ending in 2021), the USACE is still awaiting its federal appropriation — which is common.
"We're working. We have a continuing resolution. … In the president's proposed budget that came out back in February, Fenwick was not in that. There was no money for Fenwick," he said. But, "Congress almost always appropriates more money for the Army Corps of Engineers than the president — regardless of administration."
So the USACE won't know if the Fenwick Island project gets money until February or March of 2021, and that project might not be awarded until end of the fiscal year, with actual pumping starting in 2022.
The municipalities and the USACE will announce updates as needed.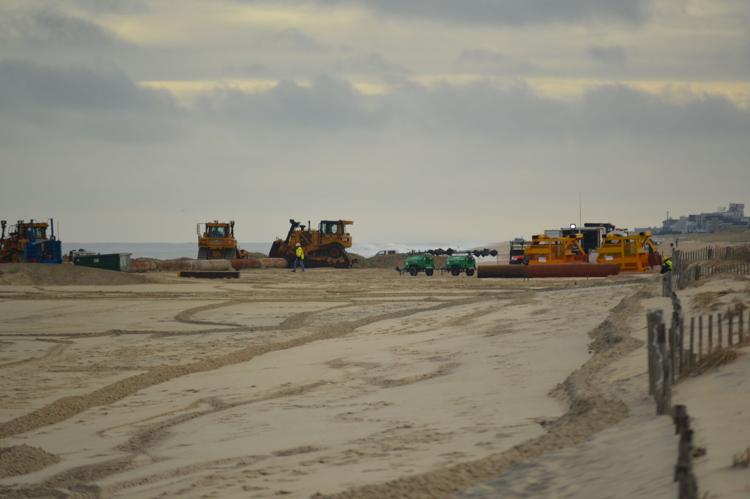 A quiet day at the beach nourishment project site in South Bethany in November of 2020.
Source: coastalpoint