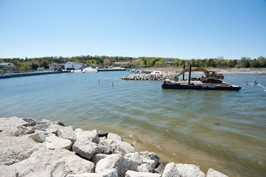 The town of Baileys Harbor had to dredge their marina each year for many years during the low water era. They have asked the DNR to allow it again this year. File photo.
Posted on April 20, 2021
After two years of dealing with high-water problems, Baileys Harbor officials watched an April storm and waves on Lake Michigan take just a few days to create a shallow-water problem at the mouth of the town's marina. The town board on Monday voted to send a letter to the Wisconsin Department of Natural Resources asking it to grant permission for dredging sand from the mouth of the marina and just outside of it.
But there's a complication.
Because DNR fisheries biologists said there are a lot of whitefish larvae in and near the marina this spring, DNR staff members told town engineer Steve Parent they did not think dredging would be allowed until mid-June.
However, Harbormaster Mark Jonas considers dredging an emergency because Baileys Harbor's marina serves as a safe harbor. He said people seeking refuge from a storm would not be able to get a sailboat with a keel deeper than four feet into the marina at this time. As an example, Jonas said Hickey Brothers' hoop net fishing boat draws between three and three and a half feet of water, and its pilot had to go full throttle to get it out of the marina recently.
The town board plans to emphasize in its letter to the DNR that Baileys Harbor is the only safe harbor between Gills Rock and Sturgeon Bay on the peninsula's lake side. The board also instructed Parent to find prices as soon as possible to prepare for the dredging work, when it's allowed.