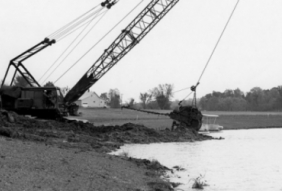 Posted on March 14, 2016
The Republican-controlled Senate appears headed for a showdown with the Republican-controlled Assembly over a "private property rights" bill that would roll back laws protecting lakes and wetlands.
The Assembly passed the bill last week, but on Tuesday the Senate will be asked to vote for a new version that removes or softens about a dozen provisions that environmentalists have said would be destructive to wildlife habitat and water quality.
"It lessens some of the things that we hoped to accomplish, but compromise is part of the process," said Lars Fiorio, spokesman for the lead sponsor for the original Senate version of the bill, which was identical to the one passed by the Assembly.
Sen. Frank Lasee, R-De Pere, on Monday voted with the two other Republican members of the Senate Committee on Natural Resources and Energy to recommend the bill without an Assembly provision that would entitle lakefront property owners to possession of near-shore lake bed that is now public property. The two Democratic members voted against.
The amended bill offered by the committee chairman, Sen. Robert Cowles, R-Green Bay, also eliminated provisions that would create a general permit allowing lakeshore owners to dredge several dump trucks full of lake bed annually if it was fill material — even illegally dumped fill — that was added before 1975.
Not all of the amendments would leave environmental safeguards intact.
One would loosen restrictions on filling, dredging and installation of certain shoreline structures, but not to as great an extent as the Assembly bill. Still, the amendment does away with "area of special natural interest" protections for lakes and wetlands with endangered species and those subject to management plans. The DNR could restore some protections by redesignating waters as "sensitive," but it wasn't clear how long it would take for the department, which has experienced ongoing staff cuts, to do that.
The amended version of the bill retains a provision to make it easier for developers to fill certain wetlands. Environmental advocates said the provision would encourage acquisition and destruction of wetlands that are important for wildlife habitat, flood control and water purification.
But the Senate amendment removed sections of the Assembly bill that would:
Prohibit the DNR from requiring sediment to be tested for toxic chemicals before they are stirred up by dredging.
Allow property owners on Lake Michigan and certain other waters to cut vegetation and level beach areas near the water.
Relax rules for boat docks shared by owners of adjacent properties, and make it easier to expand existing boathouses.
Allow elimination, without a permit, of roadside ditches that are currently classified as having value as wetlands.
Make it easier to install artificial rock riprap barriers on shorelines.
Allow dumping of fill material in lakes to repair damage caused by illegal dredging.
Change rules for operating vehicles in certain shallows and near-shore areas.
The amendment also removes a provision allowing replacement of seawalls in sensitive waters without a permit. Instead, a general permit with less intensive environmental review would be available.
If the full Senate approves the bill as amended, the Assembly could decide to adopt it or lawmakers could seek a compromise.