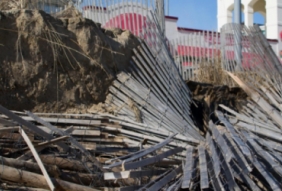 Posted on January 28, 2016
By James Dawson, Delaware Public Media
This weekend's blizzard dropped more than a foot of snow in some places across Delaware, but along the coast, high winds whipped up an ocean frenzy, devouring First State sand dunes.
Large waves still crashed onto Rehoboth Beach Monday morning, but with nowhere near as much force as they had over the weekend.
The northern edge of the boardwalk here is a sheer drop to the beach below in some places, with sand covering the wooden walkway. Piles of twisted fence planks lay below.
READ FULL ARTICLE HERE