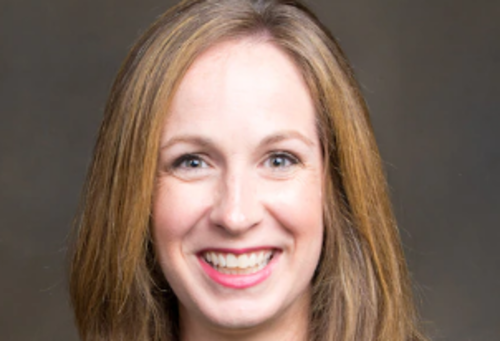 Holly Porter was recently named the 2021 USACE Program Manager of the Year. This national recognition highlighted the work Holly has done and the strides she has made throughout the region.
Posted on August 10, 2021
Success comes in many forms, and many attribute their personal success to those who have helped them achieve it.
Holly Porter, Project Manager with the U.S. Army Corps of Engineers Vicksburg District, credits her success to those who helped pave the way for her.
Porter was recently named the 2021 USACE Program Manager of the Year. This national recognition highlighted the work Holly has done and the strides she has made throughout the region.
Porter is recognized for her exceptional leadership and outstanding accomplishments as the Program Manager for the management of two national centers: The Modeling, Mapping, and Consequences Production Center (MMC) and The Levee Safety Technical Center of Expertise (LSC). Under her leadership, both programs have become USACE benchmarks for execution and delivery by a production center.
This success did not come on its own, however. It truly has taken a village to get to this point. A key part of Holly successfully executing these various missions involves being able to work with individuals and making teamwork a priority. Everyone plays an important role, and Holly recognizes that.
"Success hinges on the people you work with," said Porter. "Together, as a team, we can accomplish so much more and attain such greater achievements than can be obtained individually. The people within the MMC and LSC are truly the smartest, most innovative, and talented group of people I have ever had the pleasure of working with. Every day, the people I work with make my job easier and truly enjoyable. There is no other team I would rather be a part of!"
The contributions of over 200 personnel, along with the impacts and benefits of these programs, spans across all USACE districts. While serving as Program Manager for the MMC, Porter assisted in the establishment of the national USACE Water Management System (CWMS) program and worked with USACE Headquarters, Institute for Water Resources and the Risk Management Center on the Dam and Levee Safety programs. As the Program Manager for the LSC, Porter managed the development of a National Levee Safety Program and oversight of the National Levee Database (NLD) and a one-time inventory and review of all levees in the NLD. These programs have served as a trailblazer and model for virtual Project Delivery Teams, which has now become far more common across the Corps.
While Porter gives credit to those who worked alongside her, she also attributes her success to her mentors who helped pave and shared their knowledge, time, and expertise with her. While there are many people who she has learned from throughout her career, there are three specific people who stand out to her that have helped make her successful.
"When I first started as a structural engineer in the Vicksburg District's Design Branch, Tommy Tucker took me under his wing and truly taught me how to be an engineer," said Porter. "College taught me the skills to become a good engineer, but it was Tommy that taught me how to apply the applications I learned in school to real life engineering. Without his mentorship and patience, I don't think I would have been a successful engineer."
The second mentor that made a huge impact on her career as Vicksburg District Program Manager Paul Eagles. Paul was her senior project manager when she first moved to the Programs and Project Management Division and she said that he truly taught her how to be a successful Program Manager.
"He showed me the ropes and the tricks of the trade, but, most importantly, he taught me how important it is to develop strong relationships with our sponsors and stakeholders," said Porter. "As a PM, managing funding and schedules is definitely important, but managing our customers' expectations and developing strong relationships is the key to success!"
The third person who was vital to her success is her father, Ron Goldman. He worked as a hydraulic engineer and leader within Vicksburg District for 38 years and is the reason she chose to become an engineer.
"He is definitely my strongest mentor," she says, "my best friend, and the greatest leader I have ever met! He taught me more valuable lessons in life and in my career that I can even list. However, a few that most stick out to me are:
1. Use the talents that God gives you not only in your career, but also within your church and community.
2. Trust, but verify!
3. Many accomplishments don't have as much to do with your technical competency as it does your leadership skills and style.
4. Do everything with as much excellence as possible, and ALWAYS take care of your people."
Holly's success did not come without hard work, dedication, and the people along the way. Her ability to adapt, lead, be a teammate, and always willing to learn helped pave the way for her and led her to being nationally recognized.
When asked what she valued most about working for the Vicksburg District, it came as no surprise that she said the people.
"During the course of my career, I had the opportunity to work with so many amazing commanders and leaders that helped shape my path," said Porter. "It is the people I work with that make it enjoyable to get up and go to work each day! The members of the MMC and LSC are a family. Most of the people that work on those teams have been there since the inception of the two centers. We celebrate successes together, we mourn losses together, and we cheer each other on both in life and at work!"
The Vicksburg District encompasses a 68,000-square-mile area across portions of Mississippi, Arkansas and Louisiana that holds nine major river basins and incorporates approximately 460 miles of mainline levees. The district is engaged in hundreds of projects and employs approximately 1,100 personnel.