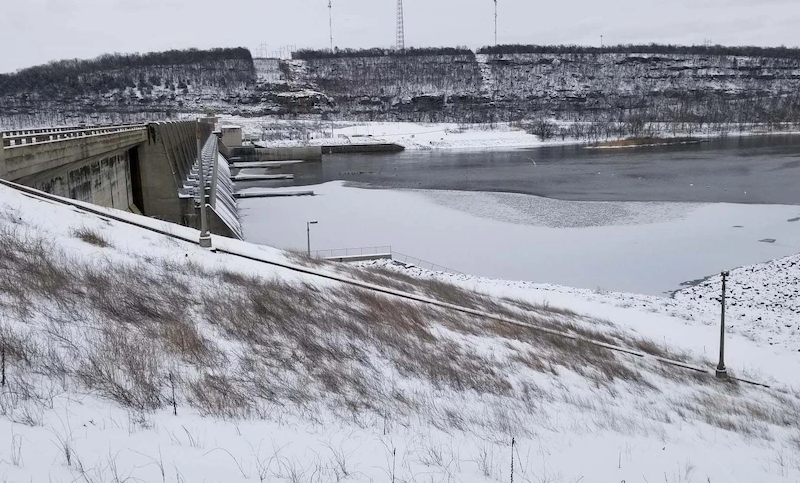 Photo By Edward Johnson | U.S. Army Corps of Engineers Tulsa District's Fort Gibson Dam released water at 10,100 cubic feet per second via hydroelectric power turbines during the 2021 Winter Storm.
Posted on May 11, 2021
As we move safely from April shower time, and look toward the recreation season, and of course May flowers, the U.S. Army Corps of Engineers' Southwestern Division still has its eye on the aftereffects of the February 2021 North American Winter Storm. The extreme weather event caused by the southern migration of a polar vortex, drove temperatures down to levels far below average as far south as the Gulf Coast.
With the storm closing in on the southwestern region of the country, the Division along with six USACE Districts and the Southwestern Power Administration worked together to prepare for emergency conditions on the bulk electric system.
SWPA is one of four Power Marketing Administrations in the United States, Southwestern markets hydroelectric power in Arkansas, Kansas, Louisiana, Missouri, Oklahoma, and Texas from 24 USACE multipurpose dams.
"All six Corps Districts were extremely responsive and accommodating throughout emergency conditions," said Mike Wech, SWPA Administrator. "Actions taken included increasing both the energy and capacity available at hydroelectric projects, delaying maintenance outages, and suspending operational requirements such as ramping restrictions and drawdown limits."
According to Wech, several days ahead of the event Regional Transmission Organizations began issuing alerts. On Feb. 8, the Electric Reliability Council of Texas issued an Operating Condition Notice. On Feb. 9, the Southwest Power Pool began Conservative Operations and on Feb. 10, Midcontinent Independent System Operator issued a Cold Weather Alert. USACE Districts took actions based on required needs from the RTOs.
The storm made its presence known sending temperatures downward and the demand for electricity up.
"February 15th and 16th were the third and second highest days of energy demand since 2001, respectively, for SWPA's interconnected system across all months," said Wech. "The Average daily demand for February is 6,446 MWh, on February 16th it was 23,700 MWh."
According to Wech, 23 of the 24 USACE plants in the SWPA region had zero new outages from February 15‐19; the exception was a 6‐hour outage at RD Willis due to ice buildup on the power lines. Each of the six districts provided support to the grid being overwhelmed by nature and demand for power.
Fort Worth District
In Texas the unprecedented cold put the Lone Star State in the media spotlight, but behind the scenes the Fort Worth District's Whitney Dam in North Texas provided Responsive Reserve Service to ERCOT throughout the event.
"RRS means the units are online and spinning, but not producing power," said Tomas R. Webb, Superintendent, Regional Hydropower Manager for Sam Rayburn and RD Willis Power Plants.
"When called upon from RRS, the units at Whitney can ramp to their full output within 5 minutes."
ERCOT called on Whitney to generate for 11 hours during the event. At the Sam Rayburn Power Plant 55 hours of generation was provided to MISO during the event. 23 of those hours were for emergency generation specifically requested by MISO.
All three Hydropower Plants in the Fort Worth District are operated from the Sam Rayburn Power Plant. The Whitney Power Plant has its own maintenance team. Sam Rayburn and RD Willis share a maintenance team.
"We are very lucky to have a great team of operators, maintenance staff, and administrative professionals at our Hydropower Plants," said Webb. "The Operators at the Sam Rayburn Power Plant were not able to leave the plant for just shy of four days due to icy and hazardous road conditions. The maintenance team traversed very hazardous road conditions to respond to generator outages at both Whitney and RD Willis."
Webb explained they even coordinated with the Sam Rayburn Lake staff to have an air boat at the ready, just in case, the maintenance team couldn't get down some of the back roads to the plant in the 8-degree weather.
Little Rock District
In Arkansas, the Little Rock District postpones a scheduled maintenance outage at Bull Shoals Dam to ensure maximum capacity would be available. Also 7-day drawdown limits were suspended at two projects, Bull Shoals and Greers Ferry. Overload capacity was made available at several other District projects, but neither SWPA nor SPP needed the additional capacity.
"USACE generated hydropower is not meant to offer 100 percent of power to a grid. Rather, the supplemental power is designed to come online when there's added demand to the power grid," said Jay Townsend, Little Rock District's chief of Public Affairs.
"Think outside of the snow event, on a hot summer day in July when it's 100 degrees outside," Townsend said. "Everyone arrives home in the evening at 5 o'clock, and they turn the air conditioning down, they start cooking and the TV's on and kids are playing, and things are connected."
This added demand means the Corps gets a call to start generating hydropower.
"That's what's also happened during this event," Townsend said. "You have an increased demand on the power grid because everybody's at home, heaters are turned up high and kids are plugged in."
Tulsa District
Denison Dam in northeast Texas generated around the clock throughout the event at 44 megawatts, the highest capacity accepted by ERCOT. As in Little Rock, the Tulsa District made overload capacity available at several projects on SWPA's ICS, but the additional capacity was not tapped into.
Also in Tulsa, maintenance outages at Denison and Eufaula Dams were postponed, ensuring maximum available capacity. And, 7‐day drawdown limits at three projects, Broken Bow, Denison, and Keystone Dams were suspended.
Water Management staff concluded the taper, or slowed releases, under the Arkansas River water control plan earlier than scheduled to allow for increased releases through hydropower generation.
Kansas City District
Harry S. Truman and Stockton Dams within the Kansas City District supported special operation for increased generation to provide higher flows downstream. The higher flows were needed to supplement cooling water for Ameren Missouri's 2,400 megawatt, coal‐fired plant on the Missouri River while normal flows were reduced by ice blockages. Additionally, Harry S. Truman ramping restrictions and holiday capacity limitation suspended to allow for maximum generation flexibility.
St. Louis District
The St. Louis District suspended a voluntary lake drawdown restriction at Mark Twain Lake in support of a cultural resource project for increased generation at Clarence Cannon power plant.
Vicksburg District
Blakely Mountain and DeGray Dams managed by the Vicksburg District generated almost around the clock in response to emergency generation requests from MISO. Narrows Dam generated around the clock providing energy to SPP throughout the event, a generation more than three times normal.
"USACE is the number one Federal producer of hydropower, with SWD being the second largest operator of hydroelectric power plants in USACE," said SWD Commander Brig. Gen. Christopher Beck. "The USACE hydropower program is important to supporting the Nation's power grid as evidenced during the winter storm. I am proud of our SWPA 6 districts' response to our Federal partners call for emergency power and to be able to deliver it for the American people."