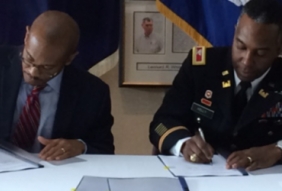 Posted on February 8, 2016
The City of Norfolk and Norfolk District, U.S. Army Corps of Engineers have launched an effort to complete a flood risk management study for Norfolk.
The City of Norfolk is a highlighted area within the North Atlantic Coast Comprehensive Study because it is vulnerable to flooding from rain and tidal events made worse by one of the highest sea level rises on the East Coast.
"This is an area that has been recognized second only to New Orleans to be impacted by rising seas," Norfolk District Commander Col Jason Kelly stated.