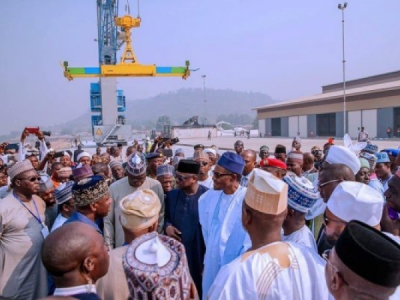 Posted on January 23, 2019
The commissioning of the N6 billion, well-equipped port on River Niger in Baro, Niger State, by President Muhammadu Buhari on Saturday, January 19th, 2019, marked a major milestone in restoring River Niger to some of its past glory as an inland water highway for transporting passengers and cargo in Nigeria.
The Baro port had a long history of facilitating trade in parts of West Africa before and after the partition of Africa and the advent of colonialism. But it declined over time partly due to greater haulage of passengers and goods by road, railway and air as the Nigerian economy expanded and the desire to deliver cargoes faster and to more commercial centres that cannot be served by the ancient Baro port.
Long years of drought, the general impact of climate change and massive use of its waters for irrigation, domestic use and hydro power generation among others, shrank the volume of its waters, making the River Niger less suitable for year-round commercial navigation along its 4,180-kilomrtre course.
It is equally discovered that many segments of the navigable sections of the river have been silted by debris, thus rendering it difficult and unsafe to navigate.
It was in response to these challenges and the benefits of restoring commercial navigation on River Niger that the Federal Government initiated plans in the 1960s to dredge the river and modernise its major ports and trading posts in Onitsha, Lokoja and Baro for the benefit of Nigerians.
The new port in Baro is equipped with a Mobile Harbour Crane, Transit shed and an Administrative block for the convenience of passengers and owners of goods.
Additional facilities at the Port include an advanced water hydrant system, water treatment plant, reach stacker, 100KVA power generating set and three forklifts of various tonnages.
The Baro Port is one of the river ports either being built or upgraded by the Federal Government to ensure that the dredged part of the Lower River Niger is utilised by shippers of passengers and goods as it is now safe and suitable for navigation by small vessels and badges.
Another benefit of the Baro river port is the creation of at least 2,000 direct and thousands indirect jobs, reduce the stress on our roads and boost the local economy in the host community.
In a speech at the commissioning ceremony, Senator Mamora Olorunimbe, the Managing Director of the National Inland Waterways, recalled that it was President Muhammadu Buhari that developed the master plan of all Inland Waterways in the country, including the Baro Port, when he was the Chairman of the Petroleum Trust Fund (PTF) boss.
With the dredging of the lower River Niger from Baro to the mouth of the Atlantic Ocean to facilitate navigation and trade, Nigerians in the affected communities would reap the benefits of the exercise. The dredging of River Benue may be the next stage of making the Inland Waterways in the hinterland more beneficial to the country
Salisu Na'inna Dambatta, Abuja
Source: Daily Trust