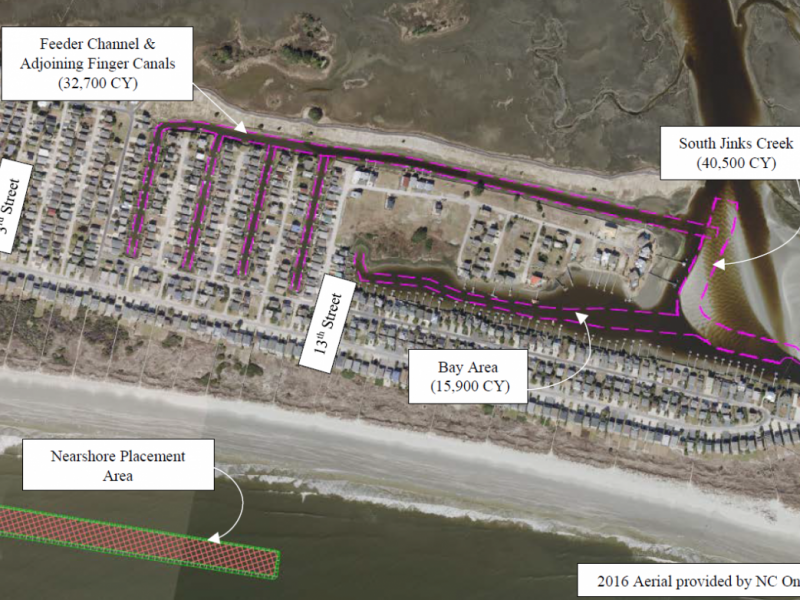 The proposed dredging project is to restore and maintain navigation access in South Jinks Creek, the bay area and the feeder channel system. Image: Sunset Beach
Posted on May 3, 2021
With all of the necessary permits now in hand, Sunset Beach plans to begin dredging area creeks and canals later this year.
But a small group of people who oppose some portions of the project continues to raise environmental concerns as they explore what may be a last-ditch effort to stop the planned dredging of South Jinks Creek.
North Carolina Coastal Resources Commission, or CRC, Chair Renee Cahoon denied two Sunset Beach property owners' requests for a hearing to challenge a state-approved modification to a Coastal Area Management Act, or CAMA, major permit the town was granted in 2019.
Her March 23 decision leaves those property owners with one option: take the matter to superior court.
Richard Hilderman, one of the property owners who last month requested a third-party hearing to appeal the modified permit, said that because of cost and time, it isn't likely he and other property owners will file a lawsuit.
"I was hoping that some environmental group would get involved in this and that's what I'm still hoping for," said Hilderman. "That is what we're trying to pursue right now."
He declined to discuss which environmental groups he had contacted.
The town received a permit from the U.S. Army Corps of Engineers April 14.
That same day, the North Carolina Department of Environmental Quality, or NCDEQ, notified Sunset Beach officials that the town's request for an extension for the dredging project grant, which was to expire June 30, has been approved, changing the contract end date to June 2023.
Under the terms of the federal permit, the project must be finished by April 12, 2026.
Only a permittee, which in this case is the town, may appeal that permit.
The town in an April 26 email notice to property owners explained its next steps, which include opening bids for dredging the feeder channel, finger canals, the bay area, and Mary's and Turtle creeks.
Officials expect the project will be advertised sometime between May and June with an anticipated start date of Nov. 16, according to the email.
Last month, the town council voted 4-1, with Councilwoman Jan Harris opposed, to award a more than $1.5 million contract with Coastal Dredging LLC to put sand dredged from South Jinks Creek to a nearshore area along about a 2,000-foot stretch of shoreline seaward between Third and 13th streets beginning Nov. 16, as long as the town received the federal permit necessary to proceed with the project.
Original plans called for placing the dredged material along a stretch of oceanfront between Fifth and 12th streets.
Town officials had to explore other disposal site options after beachfront property owners, who would have been affected by the project, said they would not grant the town property easements.
By then, Sunset Beach had acquired a CAMA major permit.
In their request for a hearing to appeal the modified permit, Hilderman and Rich Cerrato argued the town had not proven dredged sand placed in the nearshore site will remain within the shoal system from which it would be removed.
"My appeal was not the overall dredging project. My appeal was offshore placement," Hilderman said.
In her 19-page decision, Cahoon wrote that Hilderman and Cerrato did not provide proof that the disposal site is not within the active nearshore area of Tubbs Inlet, information that the petitioners need in order to meet statutory requirements for a hearing.
Cahoon also wrote that since Hilderman and Cerrato do not own oceanfront property or land adjacent to the project areas, neither were able to show they will be directly affected by the project.
Hilderman argues dredging and subsequent placement of material from South Jinks Creek will potentially degrade the environment within the barrier island on which he lives.
"We're trying to protect the environment and that's what this is all about," Hilderman said. "Why do you have to live on the canals or physically own property on Sunset Beach to protect that environment? I think citizens, we're totally being ignored. We're disrupting Mother Nature's path. She's going to create consequences."
The town's project includes dredging roughly 3 miles of waterway.
The 2019 CAMA major permit authorized the project with the condition that the maximum dredging depth be 2 feet below mean low water, which is consistent with a state rule prohibiting canals and boat basins from being dredged deeper than connecting waters.
The CRC granted a variance to the permit allowing the town to dredge about 18 acres, including South Jinks Creek, to a depth deeper than the connecting waters along its eastern border.
The variance allows dredging about 10,650 feet of South Jinks Creek, the bay area and the feeder channel, to a depth of no more than 6 feet below mean water. A series of finger canals would be dredged to 5 feet below mean low water.
Ted Janes, Hilderman's neighbor, has been a longstanding opponent of the project.
"We are part of a small core group of folks who are desperately fighting to protect an entire salt marsh ecosystem that depends on Jinks Creek for its health and future existence," Hilderman said in an email. "Our interest is limited to and aimed solely at protecting the ecosystem and its life-giving asset, Jinks Creek (Mother Nature's purpose and gift to us)."
An update on the project is expected to be provided during the council's first regular May meeting at 6 p.m. Monday.