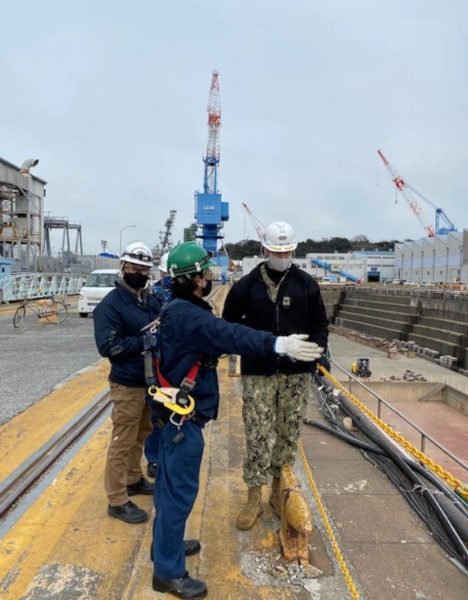 Posted on April 22, 2021
YOKOSUKA, Japan – Ship Repair Facility and Japan Regional Maintenance Center was recently awarded with the Chief of Naval Operations' Shore Safety Award for fiscal year 2020, medium industrial category.
The annual award recognizes shore-based Naval activities with demonstrably excellent safety records while sustaining mission readiness. SRF-JRMC was one of three award recipients from the Naval Sea Systems Command enterprise, together with Puget Sound Naval Shipyard and Intermediate Maintenance Facility and Southeast Regional Maintenance Center for the large industrial and small industrial categories, respectively.
"SRF-JRMC excelled in our implementation of the safety management system, achievements in high-velocity learning and other initiatives to reduce mishap trends and costs, and demonstrated strong safety leadership," said Capt. Neil Sexton, SRF-JRMC commanding officer. "At SRF-JRMC, the safety and occupational health policy is to offer a safe, healthful work environment for all hands, whether it is at the deck plates, in the industrial shop areas, or in the office spaces."
SRF-JRMC's three-year analysis of its safety risk management program reflected a downward trend of reported lower-level deficiencies despite the increase of ships in port for services. The report attributes this trend to the increased number of hands-on, highly visible surveillances which keep workers continuously engaged in safety throughout the workday. SRF-JRMC's waterfront safety and ship safety specialists conduct twice-daily inspections of ships undergoing an availability and ashore engineering safety specialists conduct annual safety inspections and daily safety walks of SRF-JRMC's facilities to ensure compliance.
"Safety permeates everything we do," Sexton said, as written in SRF-JRMC's official safety policy statement. "Our strategic plan incorporates safety into a number of our guiding principles and our safety committee exists, not because of regulation, but because we want it to be a part of all that you do—a way of life, both on and off the job."
In 2020, SRF-JRMC also renewed their focus and dedication to ensuring safety with regards to fall protection, scaffolding, fire and confined spaces. The command established a "Dawn to Dusk Safety Coverage" program, which involves both SRF-JRMC's and ships' safety inspectors providing morning, afternoon and duty coverages, including Saturdays and after-hour fire prevention and response training for emergency response to ship's crew. This program ensures that all ships in availability status continuously receive top-level safety coverage for both the ship and its crew. Another example comes from the Environmental, Safety, Health and Radiological Controls (ESHR) department's one-on-one scaffolding trainings, which are conducted once a week for five months with supervisors whose teams build scaffolds. As a result, the total lost time due to rework and re-inspections for certifying scaffolds as "safe for use" significantly decreased since fiscal year 2018.
"We are all very proud in the ESHR department," said Tamara Walker, the department's director. "The team has put a lot of effort into increased surveillance, better documentation of discrepancies and resolutions with the start of the Environmental, Safety and Health Deficiency Report. We are putting out more safety notices and alerts, updating the trainings to keep it interesting, ensuring better identification of hazards […] The command has worked hard and it has resulted in positive changes in the workforce."
Established in 1947, SRF-JRMC is headquartered on board Fleet Activities Yokosuka, standing as the installation's largest tenant command. The command employs over 2,800 binational workforce members including U.S. Navy active duty, Department of Defense civil servants, and host-nation contractors. SRF-JRMC's detachment, based in Sasebo City of Japan's Kyushu prefecture, employs over 460 personnel. Due to its complex nature as a medium industrial facility in Yokosuka, the command has been designated a "major shore command," serving as the largest U.S. Naval ship maintenance provider in the U.S. 7th Fleet area of responsibility.