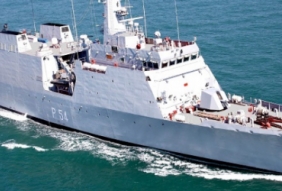 Posted on March 7, 2016
State-owned firms such as Shipping Corporation of India Ltd (SCI) and Dredging Corporation of India Ltd (DCI) and other government departments and agencies will have to buy only Indian-built ships from 2025 onwards when a ten-year financial assistance scheme approved by the cabinet ends.
This stipulation forms part of the draft guidelines written by the shipping ministry outlining the criteria for evaluating and awarding new shipbuilding orders including criteria for evaluation of bids by local shipyards for implementing the financial assistance scheme.
India has a shipping fleet of 1,246 ships with dead weight tonnage (DWT) of 15.37 million (10.45 million GT), with Shipping Corporation having the largest share of around 36%.
The existing Indian fleet is ageing, with the average age increasing from 15 years in 1999 to 17.89 years on 31 December 2015 (42.42% of the fleet is over 20 years old and 12.43% in the 15-19 age group), according to the Economic Survey for 2015-16. "Therefore, there is urgent need to increase India's shipping fleet. With asset prices currently being serendipitously low, the time is right to acquire new generation ships to replace ageing ones", the Survey said.
The financial assistance to shipbuilders—both state-owned and private—will be valid for a 10-year period beginning 1 April 2016, scaling down the quantum by three percentage points every three years, starting with 20% during the first three years, 17% for the next three years, 14% for the next three years and 11% in the 10th year.
The quantum of assistance will be calculated at the applicable rate of financial assistance taking into account the lowest among the contract price, fair price, base price, or, actual price.
In case of a contract obtained through global tender or competitive bidding, the fair price shall be equal to the contract price.
The shipbuilding policy also grants a so-called right of first refusal to Indian shipyards on government purchases and ship repairs, whereby local shipbuilders can take up state-funded contracts/works by matching the lowest price quoted by overseas entities in a public auction.
Local shipbuilders say that the government should incentivize private fleet owners to buy/build ships in India.
"The policy of first right of refusal would help Indian ship yards," says Madhu Nair, chairman and managing director of state-run Cochin Shipyard Ltd. "Such policies are followed in many countries. You can't force Indian private fleet owners to purchase ships from India. They have their business interests to protect. But the government could consider policies and grant incentives so that private ship owners are nudged into building in India," adds Nair.
In 2013, the shipping ministry tried to encourage a 'Buy India' framework for ship owners by stipulating that ships that are manufactured and registered in India will be given first preference for moving cargo on local routes.
India's coastal trade (moving cargo on local routes) is reserved for Indian-registered ships and foreign ships can be hired to operate in Indian territorial waters only when Indian ships are not available.
In a public tender, an Indian ship (owned by Indian entities and registered in India but not necessarily built in India) has a so-called right of first refusal to match the lowest rate quoted by a foreign flagship and take the contract, according to rules set by the directorate general of shipping (DGS), India's maritime regulator, to develop the local shipping industry.
If the right of first refusal is not exercised by Indian-registered ships that are not built in India, then preference was given to foreign registered ships that were manufactured in India, followed by ships purchased by Indian citizens, companies or co-operative societies through a so-called bare boat charter cum demise (BBCD) route, in that sequence.
The ministry sought to add a new category of ships to this list—Indian built, Indian flag vessels—that would be eligible to get first preference for the right of refusal for carrying Indian cargo.
The proposal to change the eligibility criteria for exercising the right of first refusal was aimed at creating a reliable market for local shipbuilders by incentivizing the purchase of ships manufactured by Indian shipyards.
The plan was, however, put on hold following protests from local fleet owners.