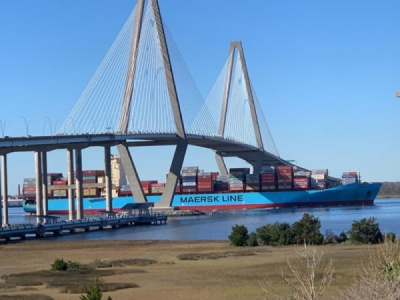 Posted on January 24, 2019
The Maersk Alfirk container ship clears the Ravenel Bridge on its way to the Wando Welch Terminal in Mount Pleasant. The State Ports Authority has outlined a plan to barge containers from the terminal to a new rail yard in North Charleston as a way to ease truck congestion on local roads. Provided/State Ports Authority
With continued growth on the way at the Port of Charleston, a proposal to move more cargo with fewer trucks is getting the thumbs-up from state and federal legislators even as its implementation could be years down the road.
The State Ports Authority last week took its plan to use barges to haul cargo containers at Wando Welch Terminal in Mount Pleasant to state lawmakers, who are asking the U.S. Army Corps of Engineers to grant a permit allowing the project to move forward. It was the first of several community meetings the maritime agency plans to hold on the proposal.
"This is an important project for us — infrastructure-wise and for the economy," said state Rep. Nancy Mace, a Daniel Island Republican and a member of the Charleston County legislative delegation's roads and bridges committee.
Bigger ships, a growing economy and the expanded Panama Canal are among the factors that have doubled the amount of containers at the port in fewer than 10 years, with a record 2.3 million boxes based on 20-foot increments moving through the terminals in 2018. It was the third consecutive volume record, and the authority expects the numbers to nearly double again in the coming decades.
Off the road
More cargo means more truck congestion on local roads, especially the Long Point Road and Interstate 526 areas near Wando Welch. The authority says its barge proposal would eliminate about 200,000 truck trips — and their resulting emissions — annually by moving containers from the terminal on a roughly 3-mile trip along the Wando and Cooper rivers to a new terminal being built on the former Navy base in North Charleston.
From there, they would be moved on a private road to a nearby rail yard planned by Palmetto Railways, a division of the state Commerce Department. The boxes would then move by rail to distribution hubs in cities like Memphis, Atlanta, Charlotte and Nashville.
All told, it would take between four and five hours to load each barge and transport them by tugboat to North Charleston. The operation wouldn't begin until the new terminal — named after state Sen. Hugh Leatherman — and the Palmetto Railways project are completed in late 2021.
Moving containers by barges would be safer, said Barbara Melvin, the ports authority's chief operating officer. It also would save $27.4 million in road and bridge maintenance costs over 30 years and improve the quality of life for residents living near Wando Welch.
The terminal's 3,800-foot wharf would have to be extended by 700 feet so barges could operate continuously and cargo could be loaded from more than one ship at a time, all of which requires Army Corps approval and a permit from the S.C. Department of Health and Environmental Control.
Melvin said the review process could last several months before a decision is made. If approved, the SPA would seek federal grants to pay for the wharf extension — which would require dredging about 1.1 million cubic yards of underwater material — as well as equipment to move containers. The authority would contract with a barge operator and does not plan to enlarge the terminal itself. The total cost has not been determined.
If Charleston-area residents and politicians don't think it's a good idea, Melvin said, the authority won't move forward with the plan.
The mayor of the town whose residents feel the brunt of traffic congestion at Wando Welch said he wants to see the barge plan succeed.
"Due to the location of (Wando Welch) … there is a significant impact on residential and business interests located around the marine terminals," Mount Pleasant Mayor Will Haynie said in a letter to the Army Corps. "By operating and managing an inner harbor barge system, (the authority) can significantly reduce the length and number of truck trips on local roads, which will ease congestion, emissions, and create a more efficient transfer of cargo."
Similar letters of support have been sent to the Army Corps by state Sen. Larry Grooms, a Charleston County Republican who heads the state's ports oversight commission, Ted Pitts of the South Carolina Chamber of Commerce and others.
"As our port continues to grow, we must look at innovative ways to enhance the intermodal supply chain," said U.S. Sen. Lindsey Graham who, along with fellow Republican Sen. Tim Scott, sent letters to the Army Corps.
During last week's roads and bridges committee meeting, state Rep. Leon Stavrinakis recommended Charleston County's legislative delegation formally support the barge plan. He called it "a great idea and a valuable project to pursue."
"We're all struggling with how to deal with our growth in traffic demands in the community," said Stavrinakis, a Charleston Democrat. " I always tell folks there's not going to be one magic bullet, but a bunch of innovative new ideas, improvements of existing infrastructure and, hopefully, some great transit improvements in the near future. This is one of those innovative ideas."
Last year, the U.S. Department of Transportation designated the barge route as a marine highway, making the barge proposal eligible for federal grants. Similar barge operations exist at ports in Virginia, Seattle, New Jersey and Alaska.
Source: The Post and Courier