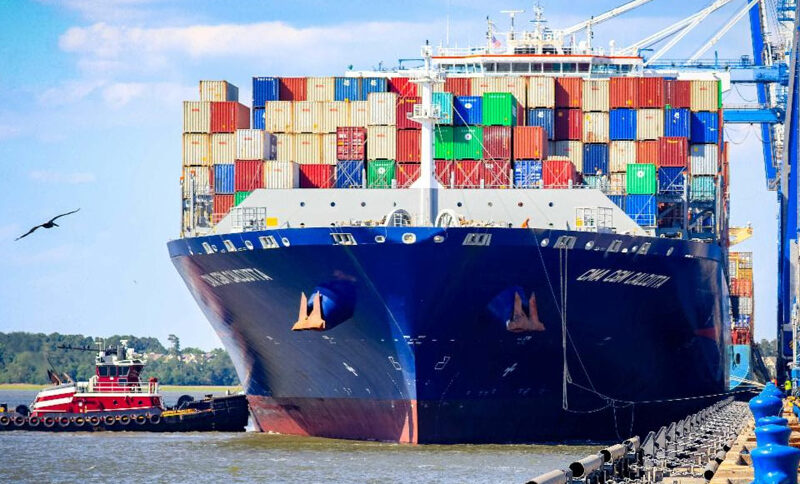 Total export sales for South Carolina saw a 26.9% decrease from the $41.5 billion in 2019, but 88% of states recorded similar drop from the pandemic, the Commerce Department said in a 2020 International Trade Report. (Photo/English Purcell, S.C. Ports Authority)
Posted on February 16, 2021
South Carolina recorded more than $30.3 billion in export sales in 2020, leading the country as a top exporter of tires and completed passenger motor vehicles. The state also earned the No. 1 spot in the export sales of ball and roller bearings.
The S.C. Department of Commerce released the information in its 2020 International Trade Report (.pdf).
"South Carolina's economy continues to grow, and the news that the state remains the national leader in the export sales of tires and passenger vehicles — and the new leader in ball and roller bearings — is a testament to our state's international connectivity," Gov. Henry McMaster said in a statement.
The total export sales is a 26.9% decrease from the $41.5 billion in 2019, but 88% of states recorded similar drop because of the pandemic, Commerce Department said.
"Although the COVID-19 pandemic disrupted trade around the world, South Carolina continues to live up to our reputation for producing top-quality products and for our ability to transport those products globally," Commerce Secretary Bobby Hitt said. "International trade is part of our identity and critical to supporting economic prosperity."
Overall for 2020, South Carolina's market share in passenger vehicles made up 21% of the nation's export sales. It then contributed 38% of the country's tire exports. The S.C. Ports Authority also handles high-end vehicles, agricultural products and medical supplies, and recently diversified its cargo to include retail.
SCPA President and CEO Jim Newsome understands it's the port's role to connect the state to the world and to serve as a "vital economic engine for the Southeast." Top export markets for South Carolina include Germany at 14%, Canada and China at 13% each, Mexico at 6% and then all others combine for the remaining 54%.
"As a top 10 U.S. container port, we have invested more than $2 billion in our infrastructure to remain globally competitive," Newsome said. "In 2021, we will have the deepest harbor on the East Coast at 52 feet, and we will open the Hugh K. Leatherman Terminal, the country's first container terminal in more than a decade. At S.C. Ports, we focus on efficient operations and infrastructure, ensuring S.C.-based businesses can continue to thrive."
To help the SCPA keep up with growing exports, the board of directors unanimously approved a new management role of senior vice president of export projects. Paul McClintock, who served as senior vice president of marketing and sales for 11 years, stepped into the role Feb. 1.
His role will help attract more cargo to the Port of Charleston and provide support for ocean carriers, Newsome said.
"Paul McClintock has expertly led our marketing and sales team for more than a decade as we attracted new business, diversified our cargo base and doubled port volumes," Newsome said. "He successfully identified market trends ahead of competitors, enabling us to grow above market."
To further encourage export participation, the SCDC also offers the S.C. Export Incentives Program. The initiative reimburses small and medium-sized businesses involved in trade for the state and finances export training for other export-related enterprises.
"Moving forward, we will continue to prioritize the growth of our trade footprint and encourage companies of all sizes to expand their reach into new markets overseas," Hitt said.