Posted on December 8, 2020
Preparations for a definitive Brexit in less than 30 days are in full swing in the Rotterdam area, home to Europe's biggest port.
Representatives from the port, customs and government were still handing out "Get ready for Brexit" flyers to truck drivers at a ferry terminal on Tuesday to let them know in eight different languages — such as Turkish and Polish — how their cargo can pass after Jan. 1.
Dutch officials has been passing out the warning pamphlets for more than a year and even created a Muppet-looking monster to spread the word about avoiding trade logistical chaos when Britain actually Brexits.
"It's really going to happen," said State Secretary for Finance Alexandra van Huffelen while handing out brochures to passing truck drivers. "We once again are calling on companies to prepare properly."
The degree of disruption hinges on whether the U.K. and European Union can sign a trade deal, and negotiators are racing to strike one before the end of the week.
From the start of the new year, customs documents for goods through Rotterdam will need to be pre-announced digitally at the shortsea and ferry terminals through Portbase's Port Community System. Otherwise the cargo can't pass. The port has set up a buffer zone where trucks without the right documents can park to avoid congestion as much as possible in January.
"We currently see volumes passing through we have never seen before," said Richard van Kleef from ferry operator DFDS. "Companies are Brexit stockpiling."
Each day  about 2,500 trucks go from the Port of Rotterdam to the U.K. About 12% of the cargo isn't signed up to the system yet, said Iwan van der Wolf, CEO at Portbase. "Trucks have 24 hours to make the paperwork in order on the emergency parking space. If they don't, they need to leave. It's a hard system but it's the only way."
—Ruben Munsterman in Amsterdam
Charted Territory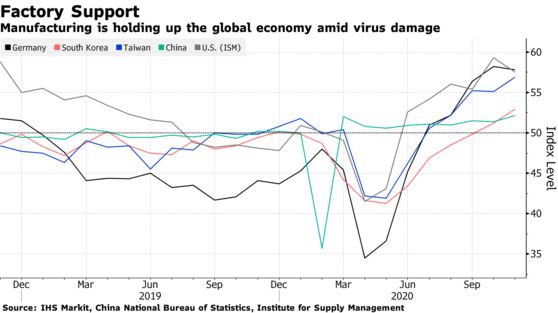 Factories from South Korea to Germany are powering along, ending the year in expansionary mode, providing vital support for economies as renewed virus restrictions in some countries take a toll on growth.
Today's Must Reads
On the Bloomberg Terminal
Recovery road | The vaccine cavalry, a new U.S. administration restoring stability to global trade and sufficient stimulus to nurse the world back to normality — all factors that Bloomberg Economics says should ensure that 2021 is the year when the world economy moves firmly onto the road to recovery.
2021 outlook | Freight transportation and logistics providers' revenue and earnings prospects are bright heading into 2021, according to Bloomberg Intelligence, despite the pandemic's impact on people and economies.
Use the AHOY function to track global commodities trade flows.
Click HERE for automated stories about supply chains.
See BNEF for BloombergNEF's analysis of clean energy, advanced transport, digital industry, innovative materials, and commodities.
Click VRUS on the terminal for news and data on the coronavirus and here for maps and charts.