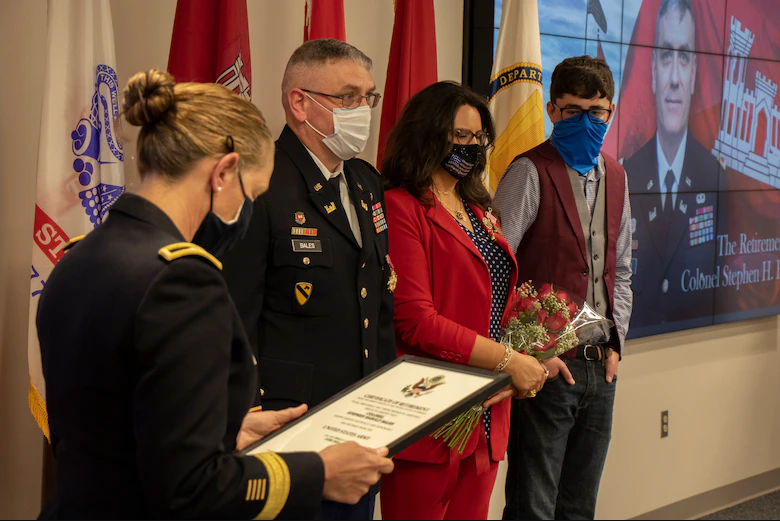 U.S. Army Corps of Engineers - Transatlantic Division Commander, Brigadier General, Kimberly M. Colloton reads the Certificate of Retirement for COL Stephen Bales with his family by his side. COL Bales is retiring after 30 years of service as a U.S. Army Corps of Engineers Officer. He ends his deticated service as the Deputy Commander of the U.S. Army Corps of Engineers - Transatlantic Division, Headquartered in Winchester, Virginia.
Posted on May 11, 2021
WINCHESTER, Va. – U.S. Army Col. Stephen H. Bales, U.S. Army Corps of Engineers Transatlantic Division deputy commander, was honored with a retirement ceremony at the Division's headquarters in Winchester, Virginia, April 30, 2021. Bales, who first joined the Transatlantic Division team in 2012, retired from the U.S. Army after 34 years of service to his nation to include four years at West Point.
Throughout his career, Bales focused, above all, on people.
Joining the ceremony, which was held mostly virtual, were Bales' wife Hope and son Kaleb, along with other extended family members, friends and professional colleagues, his West Point classmates and several previous commanders.
"Mr. and Mrs. Bales, family, friends, colleagues – thank you all for being here for Stephen, Hope and Kaleb as we celebrate this exemplary career and recognize this family," began U.S. Army Brig. Gen. Kimberly M. Colloton, Transatlantic Division commanding general. "This is truly about all of you. It would be impossible for any leader to be this successful without the support of family, and we greatly appreciate your sacrifice.
"All that you have done, the hours that you have put in covering down while Stephen was deployed, or simply working long hours and taking care of people, is to be commended," Colloton continued. "The Bales' family has been a tremendous Army family and team and it's the reason Stephen has been able to be his best every day and give so much over these past 34 years of service to this great nation."
While successfully accomplishing the mission was his duty, taking care of people has been his calling. Above all, it was clear from the speakers at the ceremony that Bales has been taking care of people from the beginning.
"Stephen graduated West Point in 1991 and from there went on to serve around the globe," Colloton said. "He was always being the leader among leaders and taking care of people everywhere he was sent – from New York to Missouri, North Carolina and Texas, from Kentucky to Kansas to Virginia and overseas to Korea and Iraq, Australia and Afghanistan."
Colloton went on to share stories of the multiple times their paths crossed over the years and said, "I always knew that Stephen was a true friend and a loyal teammate and if I ever needed to ask advice or reach out for help, Stephen would always, always be willing and was always responsive. And he was really smart so he always had really good answers," she added.
"During those times, we all grew from young company grade officers to field grade officers. During those times, I also saw Stephen fight and win a battle with cancer. I saw him find Hope, the love of his life, and bring her back to North Carolina. And then as we left Fort Leavenworth, I saw the joy of their family as he let us know that they would soon be welcoming baby Kaleb," Colloton shared before introducing several of his West Point classmates and fellow graduates to share their stories.
"On July 1, 1987, we all met," said David Dadich, Bales' West Point roommate. "We spent four years together. We never spent a day apart unless we were on leave. And if you had told me 34 years ago that this guy would be sitting here retiring today after 34 years, I would have said no way. We started with 40 classmates; we graduated with 29. Of those 29, there were eight O6s and seven O5s. That is unbelievable in my eyes.
"I came from a small town in Ohio. Stephen came from a very small town in Kentucky. He was his high school's salutatorian. And I was my high school's salutatorian. The other guys were smart too, but not as smart as we were," Dadich joked.
Dadich and Bales' two other classmates at West Point shared how Bales approach to learning helped guide them all.
"I remember studying in that room at night and watching Stephens's intensity on learning this stuff, that neither he nor I was getting," Dadich shared. "This guy helped us out and got us squared away. And then over the next four years, that's what we did together. Our motto was 'cooperate, graduate' and that's what we did. You can see from pictures during that time how close we were as a family."
The audience shared several laughs over the antics and anecdotes shared by Dadich. But what was remembered most was how much Bales always focused on taking care of the people around him.
"Stephen was always the one who took care of us. Wherever we were, he got us home safe," Dadich said.
His legacy of leadership is also seen in the long list of professionals who, through his example and because of his mentorship, are in leadership roles themselves today.
"Throughout my career, I have placed emphasis on PEOPLE, "Bales said. "I am most proud of the number of officers and NCOs who have worked for me in the past and were selected for promotion and command assignments, to include Brigade level command and command sergeant major."
Colloton went on to share many stories and remarks sent in by Bales' colleagues and former commanders.
Retired Major General John Peabody, former U.S. Army Corps of Engineers deputy commanding general for Civil and Emergency Operations, shared these words read by Colloton: "Stephen was an absolute terrific Soldier and leader; earnest, dedicated, detailed and forthright. I just loved working with him. He always showed stoic cheerfulness no matter how challenging the problem. Most of all, Stephen's integrity is simply unshakable, even under the most intense political pressures."
Peabody, who attended virtually, added by chat, "Stephen and Family – thanks for ALL of your service to the U.S. Army Corps of Engineers and the U.S. Army all these 34 years. That is some serous endurance! Your faithful support, judicious consideration, and strength of character were models for so many others to emulate. Wishing you all the best as you transition to retirement."
Major General Peter B. Andrysiak, Jr., Commanding General, United States Army Alaska/Deputy Commander, United States Alaskan Command, Joint Base Elmendorf-Richardson, Alaska, sent a message to be shared by Colloton which she read to Bales and the audience.
Andrysiak said, "Let me start with the strength of our Soldier – the family, Hope and Kaleb. They have made so many sacrifices over the years and we are grateful for all that they have given to us and to others and all that they have done to enable Stephen to serve. Hope has served the families and Soldiers of Stephens's units and also the broader community in many ways that very few are willing to do. And she has done it in a genuine and sincere manner where people feel cared for and this is a special gift and she will be missed by many who have been touched by her.
"Stephen is just an exceptional father, husband, friend and Soldier all at the same time which is really hard to do," Andrysiak continued. "Balancing all of the above takes a real special gift that he possesses. I got to observe him lead through the pressures of command magnificently as a soldier, statesman and CEO of a multibillion dollar business. He really embodies what we look for in our strategic leaders across the U.S. Army Corps of Engineers.
"I want to describe who he is with a couple of additional points," Andrysiak continued. "I'm sure this will resonate with many in the room. Stephen has the innate ability to serve his environment and understand the context of his role. He has proven he can extend influence in an environment where he interacts with other high level leaders and influential figures over whom he has minimal formal authority. He has proven that he can best address complexity by embracing it. And finally, he understands complex cause and effect relationships and can anticipate the second and third order of effects of his decisions throughout the organization.
"Many times I stood in awe, watching him run circle around others in the most polite manner, probably with that Kentucky accent, clearly something that sets him apart from his peers. He was able to take a complex organization and program and make running it look easy while delivering superior results.
"As he hangs up the uniform, he has a great deal to be proud of and should never question if he gave enough," Andrysiak shared. "He left our Army, his Soldiers, civilians and families in a much better place. It's all we can ask of someone who carries the torch for a generation of stewarding our great profession. For Casey and I, It has been an absolute honor to serve with the Bales' family and we wish them all the best in their next stage of life."
How do you sum up a career spanning more than three decades? To understand a leader's full impact, ask those they work with daily.
"Leading people is at the heart of everything Colonel Bales does," said Cindy Orndorff. Orndorff has worked with Bales for four years and is the Transatlantic Division's staff action control specialist.
"Colonel Bales' name is not one that will be forgotten here at the Transatlantic Division. He will not only be missed as a leader and a colleague, but as a mentor and friend to many. When people speak of Colonel Bales, the words leader, smart – although many have heard him use the phrase, "I'm just a farm boy from Kentucky"- , hardworking, trustworthy and dedicated are the ways he is described. Right now, being missed is high on that list. Colonel Bales came into the Middle East District and the Transatlantic Division saying that he wanted to take care of people and, that, he truly did."
When asked what he was looking forward to most, Bales said, "Just slowing down a little and only having one mobile phone!" Bales joked. "In truth, I am really looking forward to getting back home to our family in Kentucky. They miss us and we miss them. We have been gone for 34 years, and it is time to go home. We are looking forward to Kaleb completing three years of high school in one school. We are looking forward to working on our farm, running a business, and having a house that is truly our home."
U.S. Army Col. Stephen Bales' Career Biography…
Bales graduated from West Point on June 1, 1991, from Company H4 "Hogs" and to this day remains a staunch supporter of the Black Knights. After attending the U.S. Army Engineer Officer Basic Course at Fort Leonard Wood, Missouri, Bales served as a platoon leader from 1992-93 in Korea as part of the 2nd Infantry Division's, 44th Engineer Battalion.
Following his assignment in Korea, Bales returned stateside and spent the next three years at Fort Hood, Texas, as a part of the 1st Cavalry Division's, 8th Engineer Battalion. He served as a platoon leader and executive officer in Bravo Company and later served as the battalion training officer and operations officer. In 1996, after graduating from the Engineering Officer Advanced Course at Fort Leonard Wood, he transitioned to Fort Bragg, North Carolina, where he joined the XVIII Airborne Corps' 20th Engineer Brigade. Bales served as the Brigade's construction officer where he enjoyed tearing up and building C-17 contingency runways.
He then moved to the 37th Engineer Battalion where he was assigned as the training and operations officer. On the Fourth of July, 1998, Bales married Hope and they began their life in the Army together. Shortly after getting married, Bales assumed responsibilities and served as the Alpha Company commander of the 37th Engineer Battalion from 1998 until 2000.
Bales was then selected as part of the Army Military Personnel Exchange Program and moved to Townsville Queensland in Australia. From 2000-2002, he served with the 3rd Combat Engineer Regiment, as a proud member of the "Dingo's."
Returning to the Engineer School House at Fort Leonard Wood in 2002, Bales served as an instructor for one year for the Captains Career Course. Later, he worked in the Future Force Directorate designing the Army's Brigade Combat Team force structure and working with the Unit of Action Maneuver Battle Lab.
In 2004, Bales attended Army Command and General Staff College at Fort Leavenworth, Kansas. Upon graduation, he was assigned to Fort Bliss, Texas, as part of the 1st Cavalry Division's 4th Brigade Combat Team. He stood up the Special Troops Battalion as their first commander, before serving as the executive officer. In 2005, his son, Kaleb, was born.
Then came a 15-month deployment to Mosul, Iraq. From 2006-2007, Bales served as the 4th BCT's engineer, a proud member of the "Long Knives." Upon his return to the U.S., he was selected and promoted to lieutenant colonel.
In 2008, Bales arrived at Louisville District as the deputy commander. Remaining in Louisville until 2010, Bales was selected to command the Buffalo District. He led more than 320 Corps of Engineers personnel serving in Buffalo until 2012.
In 2012, Bales first joined the Transatlantic Division team and deployed to Afghanistan to be the deputy commander of the Transatlantic South District (TAS) at Kandahar Air Field. He was the last deputy commander at TAS, which was later consolidated to form the Transatlantic Afghanistan District, and Kandahar became an area office.
In 2013, Bales moved to Fort Riley, Kansas, as part of the 1st Infantry Division and served as the Division engineer and deputy chief of staff. In March 2014, he was promoted to full colonel.
After almost a year at the Army War College at Carlisle Barracks, Pennsylvania, Bales moved again to take command of the Corps of Engineer's Far East District in Korea. From 2015 until 2017, he commanded over 400 personnel and supervised a $1.2 billion program in support of the Army moving its center of gravity for U.S. forces from Youngsan to Camp Humphreys.
In 2017, Bales, Hope and Kaleb arrived in Winchester, Virginia, when he was selected to command the Transatlantic Middle East District. After two years, in July 2019, Bales moved up to the Division and became the deputy commander of the Transatlantic Division. Bales will officially retire from the U.S. Army at the end of June 2021 after 34 years of service to a grateful nation.