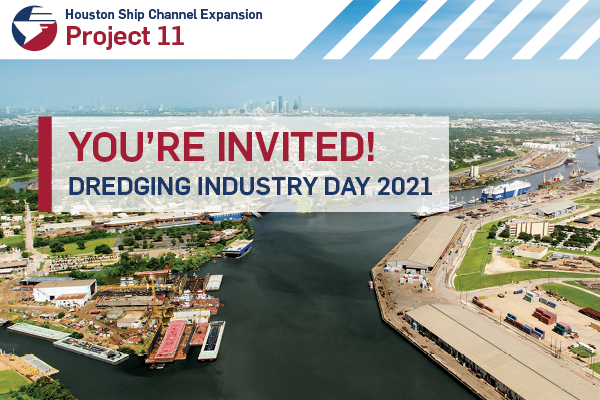 Posted on May 19, 2021
On behalf of Port Houston, we invite your organization to join us for a virtual Project 11 Dredging Industry Day on Wednesday, May 26, 2021, at 2:00 p.m. CDT via Zoom Webinar. We ask that participants register online no later than 1:45 p.m. CDT on the day of the meeting.
This presentation will deliver an industry-wide update for the upcoming Houston Ship Channel Improvement Project, also known as Project 11, and address opportunities available to your organization to support future project construction and dredging needs.
Our project team, including representatives from Port Houston, Joint Venture (Gahagan & Bryant and AECOM), and HDR Engineering, will present a one-hour presentation to introduce the project and provide a detailed overview of each of the eight design packages that will be made available for bid at a later date.
After the presentation, please submit questions and comments to channelimprovement@porthouston.com for review and response by the project team. Frequently asked questions and comments will be addressed in a response document that will be made available at expandthehoustonshipchannel.com.
Register Here — https://us02web.zoom.us/webinar/register/WN_lPKBFUo_SoOV7MTHDEsxqQ?utm_source=hs_email&utm_medium=email&_hsenc=p2ANqtz-9eus-kFZTl-0a8UDQm1U2rMw4iQLzCcw0Y7dwZrIORpufdRWteIbznnS1TTHm9DOUx5eBO