Posted on July 29, 2021
Helen Polychronpoulouhas dedicated her career to the growth and development of the Greek marine equipment manufacturing industry. In addition to her role as HEMEXPO president, she is executive vice president at Environmental Protection Engineering, business development manager for ballast water technology company ERMA FIRST, and president of METIS Cyberspace Technology SA.
Recently, she has vowed to redouble efforts for the voice of Europe's shipbuilding and marine equipment to be heard, following her election as a vice-chair of SEA Europe at an Annual General Meeting held on June 10.
SEA Europe represents European shipbuilding and marine equipment associations across 16 countries. It provides representation for the European maritime civil and naval technology industries for interests involved in the production, maintenance, repair and conversion of all ship types and floating structures. The organization also represents the entire supply chain through a wide range of producers of maritime systems, equipment material and services.
HEMEXPO (Hellenic Marine Equipment Manufacturers and Exports) is a leading suppliers and exporters association for the shipping sector, representing Greek maritime technology specialists worldwide since 2014.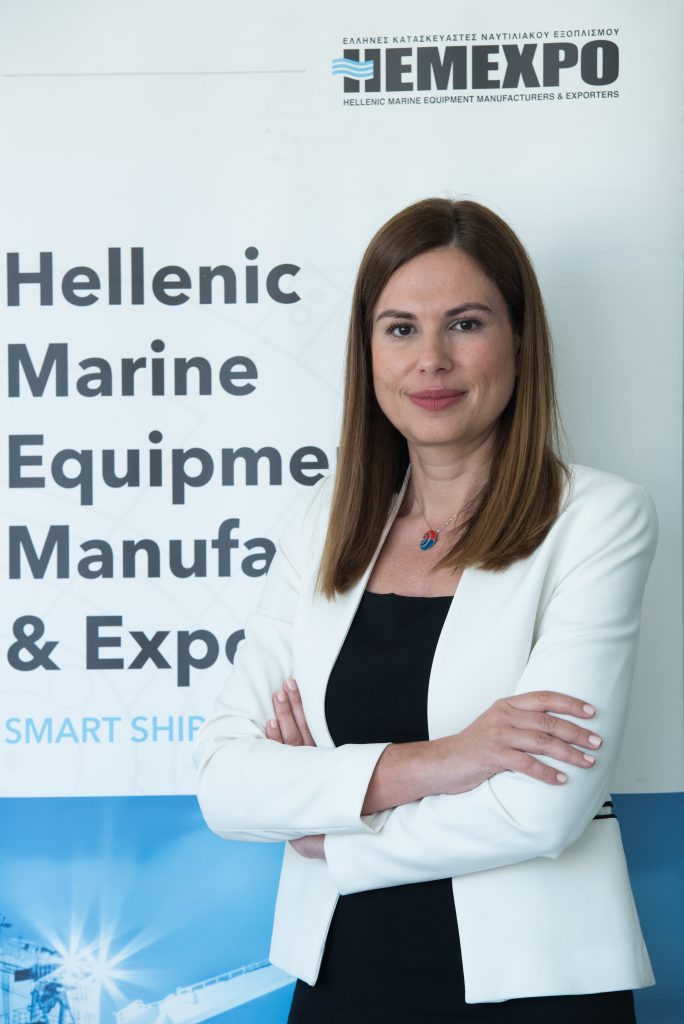 Marine Log (ML): First, can you tell us a bit about your background and how you got involved with the maritime industry?
Helen Polychronpoulou (HP): In my family, we are the second generation involved in shipping. My parents started from scratch in post-war Piraeus, where through hard work they built the largest company in the field of marine environmental protection in Greece – Environmental Protection Engineering. Maybe that was the reason I chose to study chemistry; an area in which I could combine, professionally, my two great loves—the environment and the sea. In the field of marine equipment manufacturing, in 2009 Erma First was founded.
It remains the first and only Greek company that manufactures ballast water treatment systems, with systems, which have gained the trust of the international shipping community and now have a significant market share. Then in 2014, HEMEXPO was established to provide a unified platform for Greek marine equipment manufacturers and technology specialists to collaborate and strengthen relationships with ship owners and operators, class societies and shipyards worldwide.
ML: What can you tell us about the Greek shipbuilding and repair market going into 2021?
HP: Unfortunately, Greece no longer has a large shipbuilding industry primarily due to strong competition from the Asian shipyards. For ship repairs, however, an effort has recently been made to revive large units and the success of this endeavor could create great value for the Greek economy and the maritime sector.
ML: What new technology is required by owners in order to meet current and upcoming legislation? How is the implementation of this technology going?
HP: We are currently experiencing the fourth "Industrial Revolution," where smarter and greener shipping is the future. Regarding the environmental issues, the ultimate goal is zero emissions by 2050. Efforts in this area have already started with the introduction of new fuels to the market, but I am not able to say which scenario will eventually prevail. Today, in order to operate, ships have to use 0.1% sulfur fuels, ballast water treatment systems and new technologies that help reduce energy consumption as much as possible.
As manufacturers we have an obligation to understand our customers' needs and foresee what is coming next. We need to understand the digitalization challenge and the decarbonization challenge, and to develop solutions and products to address these challenges and ensure we remain competitive.  With regards to technological developments, we have signed an MoU with the Hellenic Association of Space Industry (HASI) in order to benchmark and use these high-end technologies in the marine industry. Cross-industry collaboration is very important and can be highly beneficial for the maritime industry, particularly in the area of digitalization.
Greece may not have heavy industry, but we manufacture very important components for the vessels, and we must work together to utilize modern technologies.
ML: Have you collaborated with the Hellenic Shipowners Association? What other maritime associations has HEMEXPO collaborated with and on what exactly?
HP: Hellenic Marine Equipment Manufacturers is very lucky as we are right next to the world's largest shipping fleet. Greek shipowners are also very supportive of Greek manufacturers. HEMEXPO was initially formed in part due to their support, which has helped members to secure contracts with international shipping companies.
HEMEXPO is also a member of SEA Europe, where I was just named vice-chair, and the Cyprus Shipping General Council.
ML: Finally, what sets the Greek shipping market apart from the rest of the world?
HP: The history of shipping in Greece begins over 10,000 years ago. It is in our DNA. Greek shipowners developed their own, unique model in the world of ship management, which has enabled them to continue to be shipping pioneers through the years. However, the most important of all, is their resilience and ability to navigate all of the "storms" of the global market, and still bring their ships to a safe port. For example, during the great financial crisis of 2010, when large maritime forces failed to maintain current operational levels, Greek shipowners managed to maintain the largest and most modern fleet in the world. I think this is testament to our rich maritime heritage, knowledge and experience in this sector.