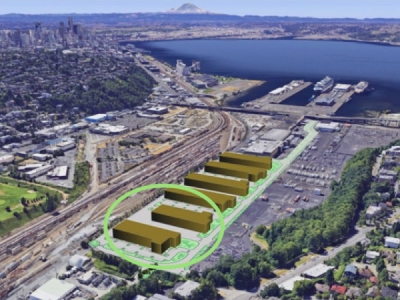 Posted on February 16, 2019
Image courtesy of the Port of Seattle: The Port of Seattle Commission will consider approving design and planning funding to construct two 50,000-square-foot light industrial buildings at Terminal 91 on Tuesday, Feb. 26.
Strategic plan calls for more maritime space for interested companies amid regional market shortage
The Port of Seattle Commission will consider a request for $4 million in design and master planning funding for two new 50,000-square-foot light industrial buildings at Terminal 91 on Tuesday, Feb. 26.
These new developments, located north of the Magnolia Bridge, are to be the first of two phases of increased capacity development planned at Terminal 91 over the next 10-15 years. The Port's 2016 Real Estate Strategic Plan calls for the creation of 700,000 square feet of new maritime industrial building space in Terminal 91's uplands area.
The Port has interest in Terminal 91 space coming from seafood processing manufacturers, fishing gear, vessel processing equipment and local plastics manufacturers, as well as a fishing/cruise industry refrigeration supplier.
Uplands development design and planning is expected to last through the second quarter of 2021, with construction lasting through mid-2023.
"Studies previously completed by the Port and others within the fishing and maritime clusters have determined that there is currently a limited supply of industrial property in Seattle in general, and Ballard Interbay in particular, resulting in rising rents and building sale prices," according to a funding memo sent to the commission by Port managing director of economic development Dave McFadden and capital project manager Tim Leonard. "The Port is in a position to relieve some of this pressure while supporting the fleet and the maritime industrial sector by developing additional industrial space at Terminal 91."
The total estimated cost of the first phase of development is $39 million, and will be funded through the Port's property tax levy.
Phase 2 will provide another 300,000 square feet of light industrial space, while the third phase of development anticipates adding another 600,000 square feet. The Port will assess the success of the first two phases before considering proceeding with Phase 3.
Source: magnolianews.net