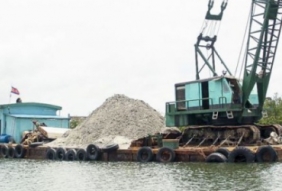 Posted on December 7, 2015
By Sen David, The Phnom Penh Post
Environmental activists have released a letter from Prime Minister Hun Sen to the National Assembly penned in response to allegations of illegal sand dredging in Koh Kong province.
In the letter, Hun Sen dismisses claims by activist group Mother Nature of foreign ownership of the two firms in question – Direct Access and International Rainbow – naming a Bun Chan Kresna and Dok Raden as the Cambodian owners of the companies. The letter was written in response to opposition MP Son Chhay's request for clarification on the matter.
"Both companies belong to Cambodian nationals and have been allowed to do sand dredging in Koh Kong legally. Those companies do not belong to Vietnam and have not taken part in 'anarchic' dredging as Son Chhay said," Hun Sen wrote.
READ FULL ARTICLE HERE