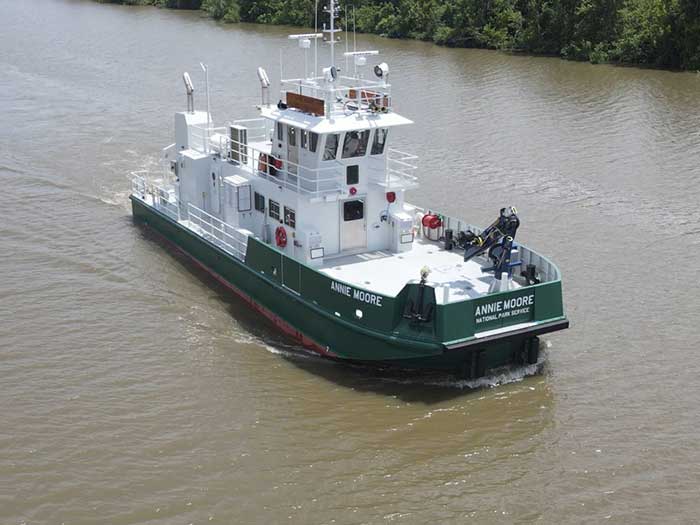 All-steel passenger/utility vessel is named Annie Moore, after the 15-year-old Irish girl who was the first immigrant to sign the Ellis Island register. [Image: TAI Engineers]
Posted on July 22, 2021
The recently delivered National Parks Service passenger/utility vessel Annie Moore is outfitted with a complete suite of Furuno navigation electronics at its state-of-the-art helm.
The 74-foot all-steel vessel was designed and built by TAI Engineers and constructed at Aluma Marine in Harvey, La. It serves the Statue of Liberty and Ellis Island and is named after Annie Moore, the first immigrant to pass through federal inspection at the Ellis Island station in New York Harbor.
The NPS chose a Furuno marine electronics suite that includes two NavNet TZtouch2 TZT2BB's at the heart of her navigation system. These powerful multi-function displays are connected to 19-inch and 24-inch multi-touch displays, driving dual DRS6AX X-Class radars. These low-noise, lightweight radars provide ieading-edge short-range target detection and feature fast target tracking, instantly displaying any target's course and speed vectors for the ultimate in situational awareness and safety for passengers and crew.
Accurate course navigation is critical and is achieved with the NavPilot 711C autopilot, with precise heading information provided by the SC70 satellite compass. More than just a heading sensor, the SC70 also provides GPS positioning, ROT (Rate Of Turn), COG (Course Over Ground), SOG (Speed Over Ground), and 3-axis speed data (bow, stern, and longitudinal) to assist with critical maneuvers such as safe docking and berthing.
The vessel's communications package includes dual FM8900S VHF radios with DSC and the powerful FS2575 MF/HF radio, along with an LH5000 Loud hailer, providing the helmsman instant, reliable communication with the shore and nearby vessels. With an output power of 30 watts, the LH5000 gives the vessel the ability to notify nearby vessels of her presence and status even in the thickest fog.
"Furuno is honored to have been selected as the provider of marine electronics aboard the Annie Moore," said Matt Wood, national sales manager at Furuno USA. "She's a remarkable vessel with an admirable mission, and we could not be more proud than to have our equipment assisting the NPS and the Army Corps of Engineers in their duties at such an important location in our nation's history."