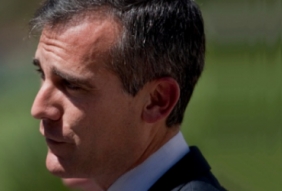 Los Angeles Mayor Eric Garcetti
Posted on January 4, 2016
Lt. Gen. Thomas Bostick, the chief of engineers for the Army Corps, deemed the Los Angeles River Ecosystem Restoration project ready to be presented to Congress, but it must first go to Assistant Secretary of the Army Jo-Ellen Darcy for an administrative review.
If the plan meets Darcy's standards, the proposal would potentially be submitted to Congress in early 2016. Construction on the project cannot move forward without Congress's authorization and approval of funds.
The proposal, which is estimated to cost about $1.3 billion, would re- introduce natural habitat to several areas along an 11-mile stretch of the river that now functions primarily as a mostly concrete flood channel.
"Thanks to our partnership with the U.S. Army Corps of Engineers, we have reached a watershed moment for a riparian revival in Los Angeles," Garcetti said. "This plan represents more than 10 years of hard work and unprecedented collaboration and gives us the opportunity to transform both the river and our city."
Col. Kirk Gibbs, commander of the Army Corps' Los Angeles District, said much effort was put into creating a plan that would "improve the L.A. River ecosystem in a constrained funding environment."
"Our number one priority of the plan is to restore the river's ecosystem while preserving the flood protection that is provided by the existing channel system," he said.
The project calls for connecting major Los Angeles River tributaries to regional habitats in the Santa Monica, San Gabriel and Verdugo mountains. It would affect 719 acres in and around the river, through widened river areas, side channels and off-channel marsh, exposed small streams and removal of invasive plants.
Trails, vistas, educational markers, pedestrian bridges and other recreational elements are also part of the plan.