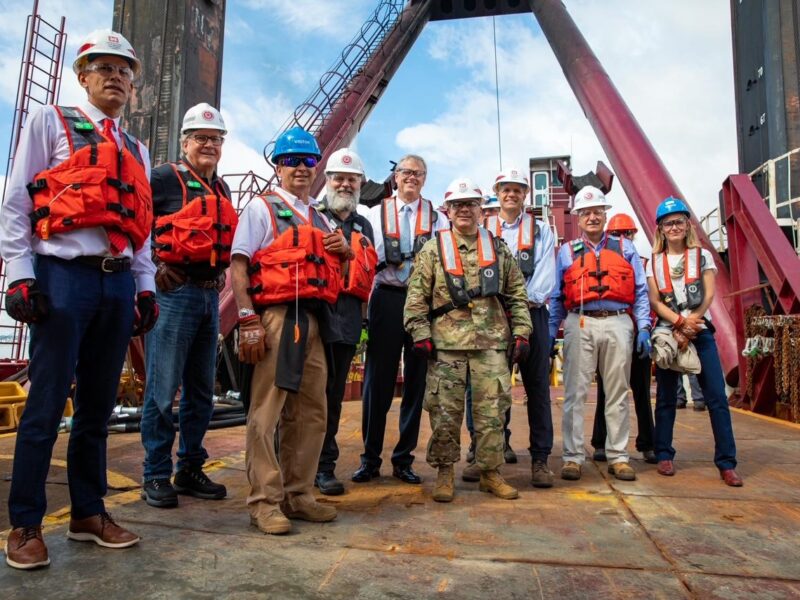 Posted on September 8, 2021
Phase III of the project is currently underway and scheduled to be complete well ahead of the November 2022 deadline. This is the final phase of the project and includes rock removal through blasting and hydraulic backhoe dredging which will provide navigational improvements to the Boston Harbor Navigation Project. "The Harbor Deepening Project is integral to the continued development and success of the Commonwealth's maritime economy and will provide expanded access and connectivity to the global marketplace," said Governor Baker. Boston is New England's largest port for import and export of commerce.
Photo ID (L-R) JQ1681:
Mike Meyren, Massport Seaport Director
Bill Hanson, GLDD
Dick Balzano, CEO, Dredging Contractors of America
Mark Reid, GLDD
Governor Baker
Col John Atilano, Commander USACE New England District
Scott Acone, DPPM, USACE New England District
Dave Simonelli, COO, GLDD
Lisa Weiland, Massport Executive Director
Kathleen Theohirades, Massachusetts Secretary of Energy and Environment Affairs
All photos attributed to Joshua Qualls/Governor's Press Office.