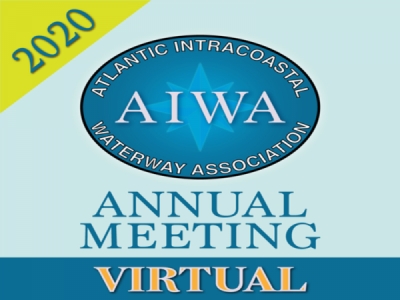 Posted on November 10, 2020
Previous Attendees & Friends of the AIWA, You're Invited! The AIWA Annual Meeting is fast approaching on Thursday, November 19! We are pleased to present this virtual, collaborative event bringing together our members and stakeholders to connect them with the federal and state agencies who have leadership roles in managing the waterway. The one-day schedule will feature sessions led by our industry's leaders covering a series of topics relevant to all waterway users. Sessions will include the State of the Waterway – Management & Maintenance Project Updates from the USACE Districts; Recreational Boating Community Perspectives from NMMA, MRRA, and Boat US; Innovative Beneficial Use of Dredge Materials Projects; Highlights from NOAA and the Maritime Administration US DOT; and A View from Washington, DC.
"One of AIWA's strengths is our broad scope representation of all waterway stakeholders. Our annual meeting provides a platform for the varying sectors of the marine industry to come together in a collegial setting and learn from one another," says Executive Director Brad Pickel.
Registration for the conference is $75. We thank all of our participants for their continued support and active participation. This is our annual opportunity to learn more together! View the agenda and register at atlanticintracoastal.org. We extend a special thanks to our sponsors for their steadfast support this year.
REGISTER TODAY!
Brad Pickel, Executive Director
Atlantic Intracoastal Waterway Association
AIWA Website (843) 379-1151
Register Now for the AIWA's Annual Meetingon November 19, 2020. Learn more here!
Source: atlanticintracoastal