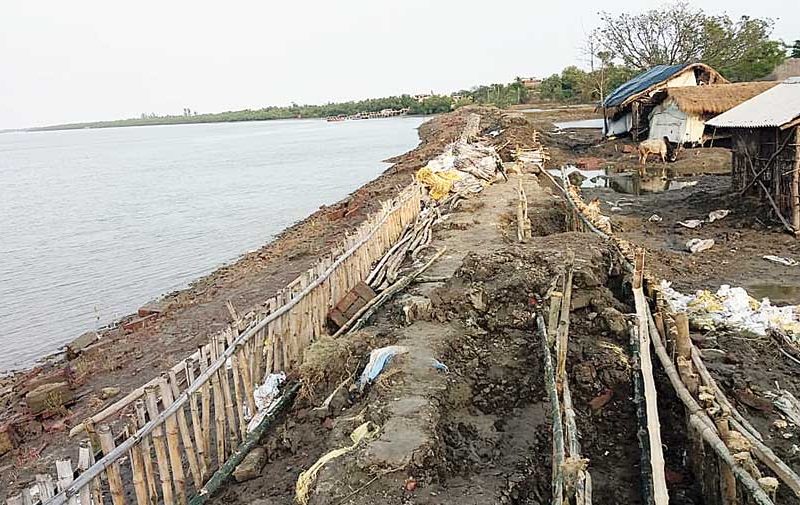 A damaged earthen embankment of the Kuyemari river at Patharpratima in South 24-Parganas. Hedaytulla Purkait
Posted on June 10, 2021
Engineers say time between Yaas and likely high tide on June 11 too short to fix the extensive damage
The irrigation department is faced with the daunting task of repairing long stretches of damaged earthen embankments before high tide strikes coastal districts of South 24-Parganas, North 24-Parganas and East Midnapore on June 11 and 26.
Cyclone Yaas damaged 294km of earthen embankments that protect villages from floodwaters. Irrigation department engineers said they got barely over a week to repair embankments damaged in the three districts by Cyclone Yaas on May 26, as floods made work impossible in the first few days.
State irrigation minister Saumen Kumar Mahapatra said: "Altogether 294km of the 400km embankments have been damaged. We are carrying out temporary work in all pockets as permanent work can't be done now. I have spoken to the Met officials who said the water level won't rise like it did when Yaas struck."
Though the minister sounded confident, engineers on the ground voiced misgivings.
"We got little soil to repair embankments as most places are under water. The soil is loose and if monsoon comes, it will be more difficult for us. We have been trying our best to strengthen embankments but at many places could not bring earthmovers or soil from outside because of logistics," said Kalyan Dey, an executive engineer of the irrigation department in Kakdwip division, Sourg 24-Parganas.
"There is scarcity of soil as large tracts of land have gone under water since May 26. At a few places, saline water is yet to be drained out. We have repaired embankments at many places but we doubt if they can withstand (waves of) high tides," said a senior engineer of the irrigation department in South 24-Parganas. "Yaas stressed the need for concrete embankments to save lives and livelihood in the Sunderbans. It is impossible to repair 294km of damaged embankments in seven days. We could not start our work immediately after Yaas as the places were under water," he added.
Repair of a 3km stretch of embankment along the Bay of Bengal near Digha is underway with sand bags and soil as a temporary step, said an irrigation official in East Midnapore.
Villagers in Yaas-hit East Midnapore asked for concrete embankments in an interaction with a central team headed by a joint secretary in the home ministry, S.K. Shahi, on Tuesday.
When the team visited Mandarmani, around 1,000 villagers said that in the face of recurring breaches in earthen dykes, they wanted concrete embankments along the sea.
Lack of concrete embankments has left the state government, including chief minister Mamata Banerjee, worried as villages near rivers and sea are expected to face the brunt of high tides on June 11 and June 26.
Mamata on Monday had directed South 24-Parganas district magistrate P. Ulaganathan to evacuate 20,000 people from many islands in the district as it would be difficult to finish repairs before the first of the two high tides strikes on June 11.
Irrigation department officials said earthen embankments were not repaired during monsoon as soil gets washed away and so do government funds.