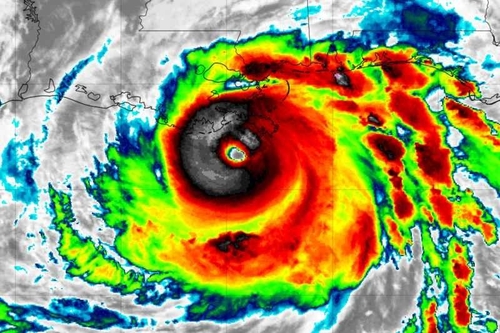 Posted on September 16, 2021
Hurricane Ida is expected to become one of the costliest tropical storm impacts ever to affect the mainland United States, according to insurance and reinsurance broker Aon.
The industry has been absorbing the reality of hurricane Ida over the last week or so, as industry loss estimates steadily rose and the impacts of the north east flooding from Ida's remnants became clearer.
At the same time, the industry has also been absorbing the fact the claims and recovery processes around hurricane Ida are likely to be prolonged, challenging and sources suggest that there is a significant chance of loss creep emerging, as this could be yet another US hurricane that develops slowly, it appears.
With loss estimates now pointing towards a total insurance and reinsurance market impact from hurricane Ida in the $30 billion to $40 billion range, including all flood impacts further north and the losses to the NFIP, hurricane Ida could be one of the biggest insured hurricane losses as well as economic.
Aon's recent comments, that Ida will be among the costliest ever, is based on the economic impacts.
The broker said, "Total direct economic losses were anticipated to reach well into the tens of billions (USD), and Ida will likely become one of the costliest U.S. mainland hurricanes on record both on a nominal and inflation-adjusted basis."
We've seen economic loss estimates that range anywhere from $50 billion and upwards, with $85 billion the highest seen so far.
On the insured basis, it appears that only roughly half, perhaps even less, of hurricane Ida's economic losses will actually end up falling to the insurance or reinsurance market to pay for.
Aon said, "While a sizeable portion of the economic damage due to coastal and inland flooding was not expected to be insured, public and private insurance entities were still likely to have exposures into the double-digit billions (USD)."
Steve Bowen, managing director and head of Catastrophe Insight, within the Impact Forecasting team at Aon, commented "As larger-scale disasters occur with more intensity and subsequently result in greater impacts, this has put a spotlight on areas where gaps lie in humanitarian and insurance protection. This is true regardless of whether a country is identified as developed or emerging.
"Hurricane Ida's catastrophic impacts in the United States highlighted how much work is yet to be done to better insure around inland and coastal flooding."
Aon also commented on the recent Haiti earthquake in its latest monthly catastrophe report, saying that economic losses are expected to be around $3 billion, but that little would be insured.
"An even greater gap is found in Haiti following the major earthquake that once again has the country facing a challenging recovery. How governmental bodies work with private sector groups to improve hazard protection and aim to better and more smartly rebuild will be key to lowering future natural peril risk," Bowen said.