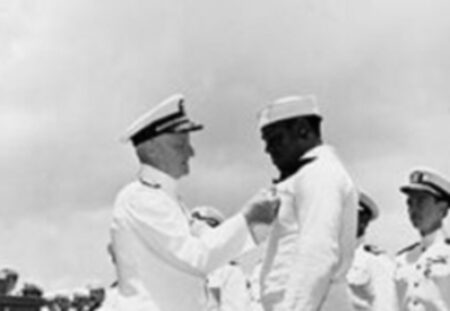 In this file photo taken May 27, 1942, Adm. Chester Nimitz awards the Navy Cross medal to Doris Miller for his actions aboard the battleship USS West Virginia (BB-48) during the Dec. 7, 1941 Japanese attack on Pearl Harbor. The award was presented to Miller aboard the aircraft carrier USS Enterprise (CV-6) during a ceremony in Pearl Harbor, Hawaii. (U.S. Navy photo
Posted on August 31, 2021
Huntington Ingalls Industries (NYSE:HII) hosted a ceremonial event today at its Newport News Shipbuilding division that marked the first construction milestone in the life of the aircraft carrier Doris Miller (CVN 81).
Doris Miller is the second ship named in honor of Miller, and the first aircraft carrier ever named for an African American. This also is the first aircraft carrier named in honor of a sailor for actions while serving in the enlisted ranks.
During a small ceremony held inside of a manufacturing facility, Thomas Bledsoe, the great nephew of the ship's namesake, gave the order to "cut that steel" to shipbuilder Gerald Bish, who operated a large plasma-cutting machine that sliced into a steel plate. Shipbuilders, U.S. Navy leadership, elected officials and Doris Miller's relatives signed their names on the plate.
"Today we recognize the start of construction of the fourth ship of the Gerald R. Ford class," said Jennifer Boykin, president of Newport News Shipbuilding. "From this day forward, our shipbuilders will put their hearts into every pipe they fit, every unit they lift and every inch of steel they weld.
Ceremony participants included U.S. Rep. Bobby Scott, D-Va., who offered remarks; Rear Adm. James Downey, program executive officer for aircraft carriers; Master Chief Petty Officer of the U.S. Navy Russell Smith; shipbuilders and six members of Doris Miller's family.
"It is so fitting and timely during a period of significant discussion and change we come together to begin construction of one of our Navy's next great aircraft carriers, in the name of one of the finest heroes of the greatest generation," Downey said. "We will construct a sound and mighty warship worthy of his legacy."
On Dec. 7, 1941, Doris Miller, known to his friends as "Dorie," was collecting laundry on the battleship West Virginia (BB-48), when the attack from Japanese forces commenced. When the alarm for general quarters sounded he headed for his battle station, an anti-aircraft battery magazine, only to discover that torpedo damage had wrecked it. Miller was ordered to the ship's bridge to aid the mortally wounded commanding officer, and subsequently manned a .50 caliber Browning anti-aircraft machine gun until he ran out of ammunition. Miller then helped move many other injured sailors as the ship was ordered abandoned due to her own fires and flaming oil floating down from the destroyed Arizona (BB-33). West Virginia lost 150 of its 1,500 person crew.
Miller's actions during the attack earned him a commendation from then Secretary of the Navy Frank Knox and the Navy Cross, which was presented to him personally by Adm. Chester Nimitz, commander of the U.S. Pacific Fleet at the time.
In 1943, Miller died aboard USS Liscome Bay (CVE 56) when the ship was hit by a torpedo and sank off Butaritari Atoll in the Gilbert Islands.
Newport News currently is performing early manufacturing of Doris Miller, which includes structural fabrication and shop work. The ship also will be the second aircraft carrier built completely using digital drawings and procedures rather than traditional paper work packages and products.
Doris Miller's keel is scheduled to be laid in 2026 and delivered to the Navy in 2032.
"The Doris Miller story provides so many lessons to us as Americans," said Thomas Bledsoe, great-nephew of the ship's namesake. "The Miller family cannot express in words what this means to us, to Americans and to anyone inspired by Doris Miller's story."
The Ford class features new software-controlled electromagnetic catapults and weapons elevators, a redesigned flight deck and island, and more than twice the electrical capacity of the preceding Nimitz-class carriers. These aircraft carriers are designed to be the centerpiece of the nation's security strategy and support and protect the global economy through the protection of sea lanes around the world.
W&O SUPPLY CELEBRATES
The aircraft construction program is supported over 2,000 aircraft carrier supplier companies across 46 states in the U.S. who perform $8.8 billion worth of work. Among them is America' largest supplier of valves, pipes, and fittings to the maritime industry, W&O Supply, Inc.,which supplied parts for the ship manufactured at Virginia Beach and Portsmouth, Va., as well as via W&O's corporate headquarters in Jacksonville, FL.
W&O contributes fluid flow control material components and systems, consisting of pipe, valves, fittings, and engineered solutions and is the only global maritime valve supplier with distribution points that span the US, Asia, and Europe with branch network locations around the world.
"We know that in times of crisis, aircraft carriers are the tip of the spear," said Phil Jiannine, W&O's director of government sales. "All of us at W&O are proud to do our part to make sure this magnificent fighting machine, named after such a dedicated American, gets the quality material and workmanship it deserves."