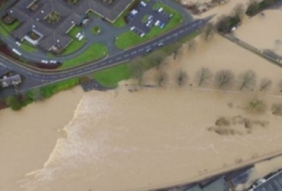 Posted on February 1, 2016
Renewed calls have been made to look at dredging rivers in Hawick after hundreds of people were evacuated from their homes due to flooding this week.
Hawick honorary provost Stuart Marshall said the town escaped serious problems "by the skin of its teeth".
He said that this had strengthened the case to speed up work on a flood protection scheme planned for the town.
With the £30m project being not estimated for completion until 2022, he said dredging should be considered.
Hundreds of people in Hawick and Jedburgh had to be evacuated from their homes on Wednesday as river levels rose rapidly.
At one point it was feared the flooding might be worse than that experienced during Storm Desmond but waters peaked by mid-afternoon.
Mr Marshall said repeated problems meant public calls for the rivers Teviot and Slitrig to be "dredged and tidied up" should be supported.
"Yesterday's flooding events in Hawick strengthen our case in the town for having a flood protection scheme for our town accelerated," he said.
"If Hawick is to wait another six years or so for this to happen then we need to support the calls of hundreds of affected townsfolk who want to see both the River Teviot and Slitrig dredged and tidied up."
He said he was seeking an urgent meeting with the Scottish Environment Protection Agency (Sepa) to show them that "little or no maintenance" was being done on the rivers.
He said after some residents had been evacuated for the third time in six weeks it was time to say "enough is enough".
'Little benefit'
Mr Marshall said a river maintenance programme was urgently needed until the flood protection scheme was in place.
Sepa said it had been working with partners, including Scottish Borders Council and Scottish Water, during and after the recent flooding.
It said this had included helping the council to undertake urgent works required to make temporary repairs to a section of road and river banking which had collapsed.
However, it stressed it did not have "any remit or powers to undertake work in watercourses or require others to undertake works".
It said that would fall to the council and added that it was in talks with the authority about tackling a deposit of gravel on the Slitrig water.
Sepa added that council-commissioned modelling studies had found that "in broad terms" dredging would have "little benefit in reducing flood levels".