Posted on April 29, 2021
Now in service with Golding Barge Line Inc., of Vicksburg, Miss., the M/V Rusty Moore is the second of two 94-foot, triple-screw towboats built for the company by Master Boat Builders of Coden, Ala.
Delivered in August, it is named for Rusty Moore, a long-time veteran of the family-owned company, who started his inland waterways career at age 19 as a deck hand and who, for the last 20 years has served as Golding's vice president of operations.
Designed by Sterling Marine, the boat measures 94 by 34 feet, with a 10.75-foot draft and pilothouse eye level height of 33.5 feet.
Propulsion power is provided by three Tier 3 Cat diesels, each delivering 800 hp. at 1,800 rpm., and driving the triple Sound Propellers via Reintjes WAF 573 reduction gears supplied by Karl Senner and 8-inch shafts, and Duramax seals and bearings.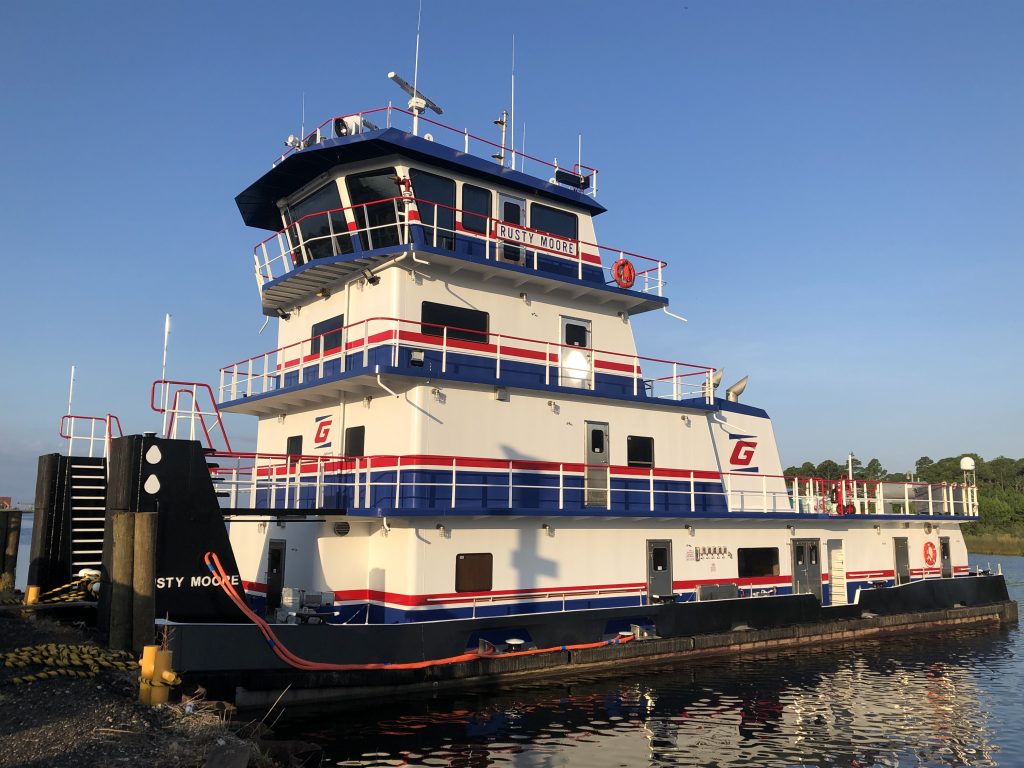 A FIRST FOR GOLDING
The triple-screw design was a first for Golding Barge Line, initially proven with the delivery of the M/V Jason Golding in May of 2020. The M/V Jason Golding and Rusty Moore are sister vessels built around a full Subchapter M design and construction process, including the Tier 3 compliant engines.
"This is a true Golding designed vessel, and not built around a pre-Sub M or Tier 3 keel as many of the recent new construction vessels are," says the boat's namesake, Rusty Moore, "The boats were designed around our 2,800 hp. class vessels, widened from 32 feet to 34 feet to accommodate the third engine.
"Building on this platform ensured performance through a proven design and prevented the need for a new set of spares.
"The rudders and shafts will swap between our 2,800 hp Class vessels, while the wheels interchange with our 1,000 hp class vessels.
"Most triple-screw boats in this class have four flanking rudders. Thanks to input from our port Captain, Todd Hundley, this design has six, improving the handling when maneuvering barges to the docks or stopping the tows in high water.
"With three main rudders, the steering response is better than exceptional and does extremely well keeping the head up in high winds."
Moore says that an important design goal was to create a boat that not only performs well and easily maintained, but also provides a quiet and comfortable environment for Golding's crews. This was attained by the use of sound deadening coatings, mineral wool in all the walls (interior and exterior), concrete on the main deck and ceramic tile throughout, which all worked together to minimize "metal borne" noise.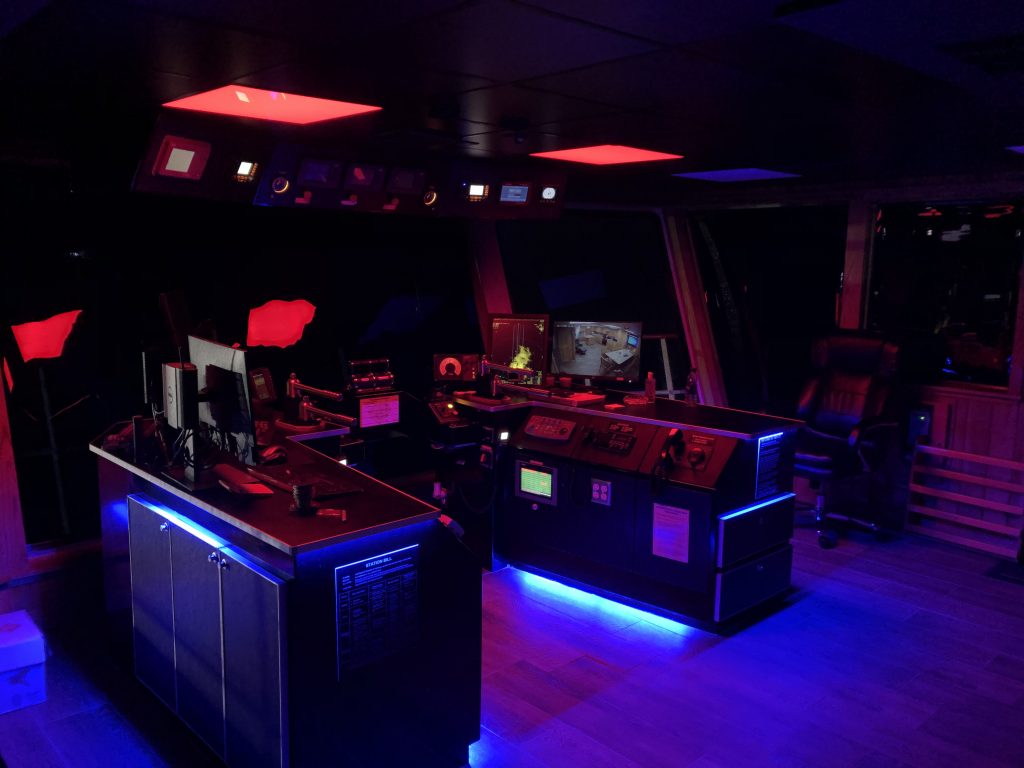 "We got innovative with the design and only installed two stacks for a cleaner appearance and to allow for a stairwell between," Moore says. "One stack services two main engine exhaust and the other handles the exhaust from the third engine and both generators. The center engine can be removed through a bolted hatch in the deck under the stairwell."
"Having one of these boats named after me is only overshadowed by the joy it has been to work for the Golding family over for the last 20 years and have the opportunity to be involved in the design and building of our fleet of 26 inland towboats and 66 tank barges," he adds.
The vessel has tank capacities for 32,000 gallons of fuel, 4,800 gallons of potable drinking water, 11,800 gallons of wash water and 600 gallons each of lube oil and gear oil.
Deck equipment includes two 60-ton Patterson winches and a Schoellhorn-Albrecht capstan.
Electronics and communications equipment includes two Alphatron JMA 601 river radars, four Standard Horizon GX6000 VHF Radios, a JRC JLR-21 satellite compass, two Furuno FCV628 depth finders, a Furuno F170 wind meter, an Alphatron swing meter, an Intellian I3 Sat TV, a Jotron AIS, a Furuno loud hailer and Furuno BR500 BNWAS, an eight-channel CCTV and a Ritchie H845 lighted compass.
Galley equipment includes an electric range, three refrigerator/freezers and microwave, while an entertainment center has a TV/PC interface for safety meetings and TSMS reviews in the galley.
There is a full lounge/exercises room on the third deck. Crew quarters comprise four double-bunk berths on the second deck with adjoining bathroom between each pair.
There is a full bathroom in the lounge area, a half bathroom downstairs and a toilet in the pilothouse.