Posted on August 2, 2021
Marine Log partners with Passenger Vessel Association to plan first ferry event in 18 months
Set to take place at the Hyatt Regency Jersey City on the Hudson, November 9-10 in Jersey City, N.J., the 34th annual Marine Log FERRIES conference will have as its theme "The Ferry Industry is Poised to Rebound in 2022."
The venue, with floor-to-ceiling windows overlooking ferry traffic on the Hudson River, is a quick ferry ride from New York City.
Marine Log has partnered with the Passenger Vessel Association (PVA) to plan what will be the industry's first live event in 18 months. In addition to two days of in-person discussions and dynamic Q&A sessions, the event will feature ample opportunities for networking.
Over the next several years, the ferry industry is expected to experience rapid growth and innovation. The collaboration between Marine Log and the PVA enables both organizations to share resources and industry knowledge in support of the ferry industry at this critical juncture.
TOUR
A highlight of this year's event will be an in-person tour of the first of the three new Ollis Class ferries being delivered to New York Harbor this fall for the New York City Department of Transportation (NYCDOT) Staten Island Ferry Division. The ferries—designed by Elliott Bay Design Group in Seattle, Wash.—were built by Eastern Shipbuilding Group's Allanton, Fla., shipyard.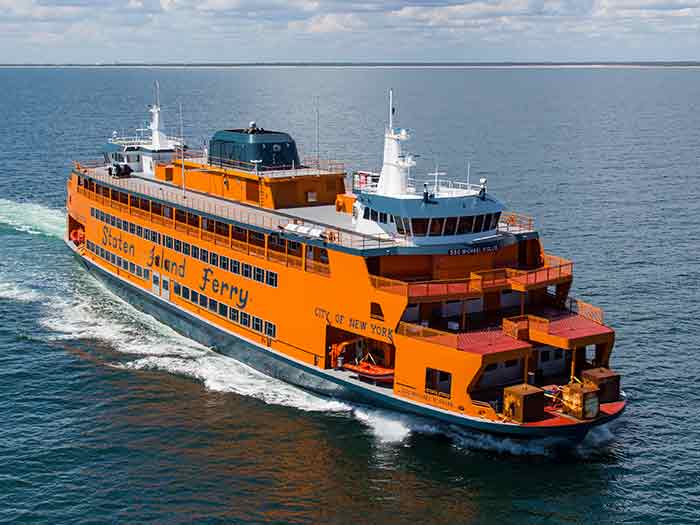 Conference attendees will get a guided tour of the vessel's pilothouse, engineroom, and its passenger spaces.
NYCDOT will also allow guests to explore its full mission pilothouse. Designed as a close reproduction of the Ollis Class pilothouse, the simulator features the same Furuno radars and Transas ECS units as the ferries.
A Q&A session will conclude the tour on the saloon deck of the ferry prior to returning to the hotel for the remainder of the conference.
PRESENTATIONS
As ever, a focus of the program will be on lessons learned from hard-earned, real-life experience. In addition, the program will explore new ways to meet economic and environmental targets through advances in technology, innovative approaches to operating a vessel, and the latest trends in ferry design.
In addition to thought leaders presenting on topics relevant to the ferry industry—including current and pending regulations that could impact ferry operations—two panels have been incorporated into this year's lineup. The first will focus on the latest trends and info in ferry vessel design and the second will discuss the predicted boom in ferry ridership for large and small operators.
Speaker program development is currently underway and more information will be available soon. An updated lineup of speakers can be found here.
Why should you attend FERRIES 2021? Here are five reasons:
Prepare for the anticipated boom in ferry ridership at the first ferry event in 18 months for the Marine Log community;
Be ready for changing industry regulations and compliance targets under the new administration;
Take home lessons learned from ferry owners and operators, including moving to safer, more energy-efficient vessels;
Discover new ways to meet economic and environmental targets through technology, innovative operational strategies, and vessel design; and
Find out how smaller operations can benefit from emerging technologies and diversify their business.
For inquiries regarding sponsorships or ways you can connect with FERRIES 2021 attendees, contact David Harkey at dharkey@sbpub.com.