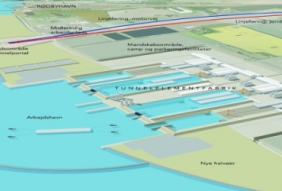 Posted on April 5, 2016
Femern A/S, a subsidiary of the Danish state-owned Sund & Bælt Holding A/S, has announced its intention to award a substantial contract related to the construction of a tunnel connecting Denmark and Germany.
The winning Fehmarn Belt Contractors consortium includes Royal Boskalis Westminster N.V., Hochtief AG, Ed Züblin AG, and Van Oord. The total budget for the Fehmarnbelt link construction is some €6 billion.
The Fehmarnbelt Fixed Link will connect Denmark and Germany and will be the world's longest immersed road and rail tunnel. The fixed immersed tunnel link across the Fehmarnbelt will be more than 18 km long and carry a four-lane motorway alongside a twin track electrified railway.
READ FULL ARTICLE HERE