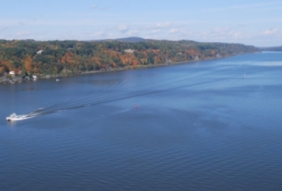 Hudson River
Posted on January 5, 2016
Sometime in early 2016, the U.S. Environmental Protection Agency will begin examining whether General Electric successfully removed harmful chemicals from the Hudson River as part of its dredging project that concluded this year, the Villager reports. That's a whole year earlier than when the EPA was scheduled to carry out the review. The expedited examination is a result of pressure from local environmental groups who believe that GE did not do enough
GE undertook a six-year, $2 billion dredging project along the Hudson to clean up PCBs (polychlorinated biphenyls) it had dumped into the river prior to 1977. Over the six years, the company says it removed 300,000 pounds of PCBs. That cleanup project ended in 2015, but groups like Scenic Hudson and the Natural Resources Defense Council called on the EPA in early December to say that GE could and should carry out a lot more remediation work on the river.
A 200-mile stretch, almost two thirds of the entire Hudson River, between Glenn Falls in upstate New York and Battery Park is a federal superfund site. Pollutants like PCBs are known causes of reproductive and neurological disorders.
The EPA will allow for more public participation and provide current assessment as the review begins.