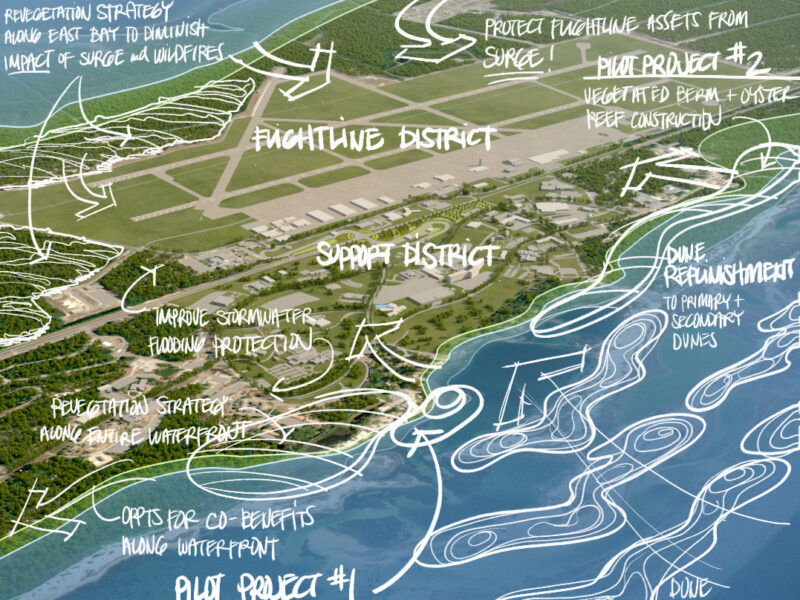 A marked-up photo shows plans to rebuild Tyndall Air Force Base, Florida, and the surrounding area with Engineering With Nature (EWN) best practices after the base was devastated by Hurricane Michael in 2018. The Tyndall Coastal Resilience Study, a project focused on rebuilding Tyndall as an Installation of the Future, earned the EWN program, the U.S. Army Corps of Engineers and partners the U.K.'s Environment Agency Flood & Coast Excellence Award June 30, 2021. (Image by Brett Wylie, Jacobs)
Posted on July 28, 2021
VICKSBURG, Miss. – The U.S. Army Corps of Engineers (USACE) and its partners received the U.K. Environment Agency Flood & Coast International Excellence Award June 30 for the Tyndall Coastal Resilience Study.
The study focused on rebuilding Tyndall Air Force Base, Florida, as an Installation of the Future in the aftermath of Hurricane Michael, a Category 5 storm, which damaged the base and surrounding area in October 2018.
"In addition to USACE's Engineering with Nature (EWN) program and the U.S. Army Engineer Research and Development Center, this great team included Jacobs Engineering Group, the U.S. Air Force and the U.S. Fish and Wildlife Service," said Dr. Todd Bridges, national lead for EWN. "We've been working together on this project for nearly two years, and this international award recognizes our achievements – it's a great honor."
The U.K.'s Environment Agency is responsible for protecting and enhancing the environment, including flood and coastal risk management. The organization has a staff of more than 11,000, a budget of approximately $2 billion and a range of responsibilities like those discharged by the Federal Emergency Management Agency, the U.S. Environmental Protection Agency and USACE.
During the video award presentation, an Environment Agency spokesperson said the judges were inspired by the Tyndall team's collaborative international effort and the innovative nature-based solutions for rebuilding in complex and sensitive coastal locations. The judges were also impressed with the alternative finance strategies the study identified and how these could be used to fund similar projects in other settings in the future.
The project's activities have involved more than 30 organizations who worked together to identify over $4 million in potential grant opportunities.
The Tyndall team completed a number of technical studies to assess the level of flood risk, investigate a range of solutions and develop pilot projects to test the solutions.
The four pilot projects included reinforcing and building up dunes at the southern end of the base; investigating new strategies for rebuilding dunes on the barrier islands, including trapping sand by using fences, woody debris and new vegetation; strategically placing subtidal sediments and sand to enhance natural environments by buffering wave energy and reducing storm surges; and exploring opportunities for placing sediment to enhance intertidal flats and salt marshes, using oyster reefs or living shorelines to reduce erosion, and constructing levees to reduce flooding.
"One thing we learned from this project is that creating a diverse menu of nature-based solutions is critical to accommodating the range of site conditions encountered at military installations," Bridges said. "Each part of the project will deliver different combinations of multiple benefits: preventing erosion; protecting people and assets from damaging storm surge; enhancing the recreational value of the area for visitors, which will also contribute to the local economy and provide social value for Air Force personnel and the surrounding community; and providing habitat for threatened and endangered species, such as nesting sea turtles."
Retired Air Force Brig. Gen. Patrice Melancon, who served as the executive director of the Tyndall Air Force Base, Florida Reconstruction Program Management Office, and who participated in an EWN podcast, said, "We're hoping it will be a model for all other coastal areas in the U.S."
"We turned a catastrophe into an opportunity to rebuild better, using the latest science and engineering and EWN best practices," Bridges said. "We know once the rebuilding is complete, Tyndall will be the base and the coastal facility everyone looks to as an example of what can be done."