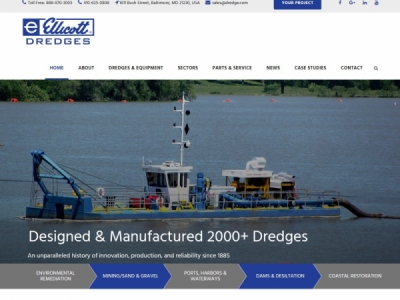 Posted on February 12, 2019
Our latest company video, "Ellicott's Major Projects Group," highlights Ellicott's commitment to building a reliable heavy-duty dredge. In addition, viewers will have an opportunity to see our team in action as they work together to produce a dredge that exceeded our customer's expectations.
Ellicott Dredges, one of the oldest and most successful global dredging manufacturers has been designing, engineering and manufacturing a variety of innovative small, mid-sized, and custom-built dredges since 1885.
Throughout our rich history, customer service has been our top priority. No matter how difficult or challenging the task may be our team is ready to design and build a dredge to the customer's exact specifications.
Our new company video titled "Ellicott Major Projects Group" is a prime example highlighting our team's experience, knowledge, commitment and dedication to building a dredge to completion and fulfills our promise to the customer.
Ellicott Dredges Website: http://ow.ly/Uhr430lqGIw
Twitter: http://ow.ly/n0r030nCgeb
Facebook: http://ow.ly/ZaiL30lqGL3
Youtube Channel: http://ow.ly/2kzF30lqGOz